Harrison, Samuel (1829-1917)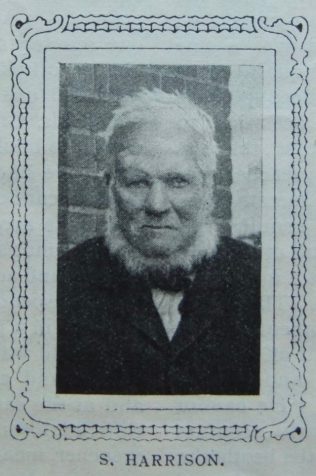 Transcription of 'Sketch' In the Christian Messenger
BRO. HARRISON was born in the parish of Saxthorpe, Norfolk, in 1829. He had very little education, for before he was eight years old he was sent into the field to work, and for three years his wage was a shilling a week.
He was soundly converted at the age of thirty, and at once joined our society at Corpusty, in the Aylsham Circuit, where he has rendered the most valuable service.
He has been a Class Leader for forty-five years, and would gladly attend to-day, but bodily infirmity forbids.
Our brother has been an acceptable local preacher for fifty-two years, and takes a service now when able. He has walked as many as three hundred and fifty miles in a year. Again and again he has led class in the morning and then started on a long journey, eating his dinner on the road, or going without any food until home at night.
He is now on the Permanent List of Aged Local Preachers' Fund, and more than once, when the monthly payment has been made, he has said: "It is religion that has done this! "
Bro. Harrison is now in his eighty-third year, and is much respected. His ear-trumpet was given to him by the clergyman of the parish. His long and faithful service has given him an abiding place in the love of his brethren. In our brother we have one of the makers of our Church in Norfolk.
It has been by faithful men of his stamp, instant in season and out of season, that we have come to "where we are and what we are."
Family and other information
Samuel spent his working life as an iron founder.
He married Elizabeth Carr (abt 1830-1887) in the summer of 1849 in the Aylsham Registration District, Norfolk. Census returns identify six children.
Mary Ann (1851-1942) – married David White, an agricultural labourer,
Susannah Elizabeth (1854-1942) – married Robert Bullock, an agricultural labourer, in 1873
Samuel (1860-1940) – an iron moulder
Alfred John (1863-1922) – an agricultural labourer
Levi Richard (abt1866-1949) – a blacksmith
Jonathan (abt1870-1956) – a farm-worker
Census returns identify that Samuel married Sarah from Cawston, Norfolk, but I have not been able to identify the marriage or her death at some time before the 1911 census.
Samuel died in May 1917 and was buried at Saxthorpe, Norfolk.
References
Christian Messenger 1913/14
Census Returns and Births, Marriages & Deaths Registers