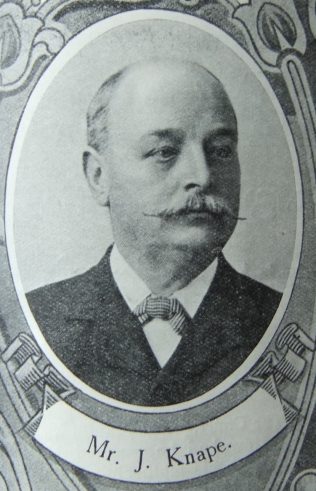 Transcription of Magazine 'Sketch'
It has been Mr. Knape's joy to serve Bethel Church, Burnley, from earliest youth. His service has been various, but his best work has been done in the Sabbath School. A teacher for many years, he now holds the honoured post of Superintendent. His devotion to Sunday School work has brough him recognition in the town and district. For two years he held the position of President of the Burnley Sunday School Union. As Circuit Steward Mr. Knape is judicious and painstaking. He takes a deep interest in every part of the circuit, and seeks to promote unity and mutual good feeling.
Mr. Knape has twice represented the circuit in District Meeting, and has sat twice as a member of the Conference. He has taken the deepest interest in Missionary work, as was evidenced a few years ago by his gift of the "Bethel" Mission Van, and as is continually evidenced by the large sums of money collected by himself and family, and by the circuit under his fostering care for the Missionary Society.
W.L.
Family and other information
John was born abt 1852 at Stourbridge, Worcestershire, to parents John and Sarah. His parents moved to Burnley when he was an infant. John, senior, originally from Wisbech, Cambridgeshire, was a coach builder.
John followed his father's trade as a coach builder, developing into motors cars by 1911.
John served for ten years as a town councillor.
John married Ruth Robertshaw (1851-1887) in late 1871 at Burnley, Lancashire. Census returns identify seven children.
Susannah (b abt1875) – married Ernest Jones Holmes, a civil servant (1931), in 1896
Martha Ann (abt1877-1931) – married Walter Smith, a book-keeper (1931), in 1900
Florence (b abt1879) – married Arthur Pickup in 1903, a clerk with Co-operative Society (1911)
John (1881-1945) – a coach builder (1911)
Henry (1881-1950) – a chemist manager (1911)
Arthur Brett (1885-1937) – a book-keeper (1911)
Ruth (b1887)
John married Isabella Law (abt1853-1931) in late 1887 at Burnley, Lancashire. Census returns identify that they had one child who died in infancy.
John died on 4 April 1923 at Burnley, Lancashire.
References
Primitive Methodist Magazine 1910/278; 1925/661
Census Returns and Births, Marriages & Deaths Registers