Kemble, Ellen (nee Moss) (1852-1911)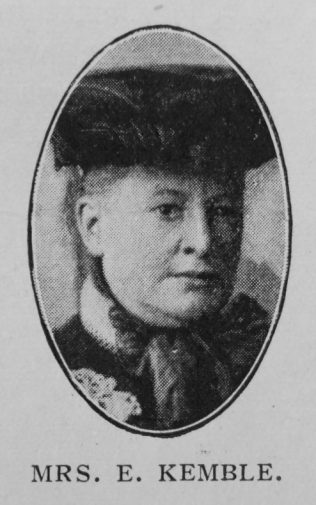 Transcription of obituary published in the Primitive Methodist Magazine by W. Perry
Mrs. Ellen Kemble, wife of John Kemble, and daughter of Mr. George Moss, deed poll member, entered into rest on Thursday, August 24th, aged fifty-nine years. Removing twenty years ago from Reading to Pant, our sister and her husband at once associated with our Church. She was a teacher in the school, secretary of the Band of Hope, a member and worker in the B.W.T.A., Leader of the Junior Class, and a willing and capable helper in all Church enterprises. 
She was regular in her attendance at all the means of grace— cheerful and generous in her disposition. The variety and volume of her services to our Church were well known and highly appreciated. She has passed through fiery trials, and her last illness was painful, but the most fitting word for her in life as in her death was "Victory." 
Her husband has received many letters testifying to her worth. The funeral was Nonconformist. Amid tokens of general respect, she was buried in the Llanymynech Churchyard on Saturday, August 26th. A memorial service was conducted by Rev. W. Perry on August 27th.
Family
Ellen was born in the summer of 1852 at Newbury, Berkshire, to parents George, a barge builder (1871), and Ellen.
Before her marriage Ellen worked as a tailors and machinist (1871).
She married John Kemble (1847-1911), a caterer & confectioner (1901), in the summer of 1880 at Reading, Berkshire. 
Ellen died on 24 August 1911 at Llanymynech, Shropshire.
References
Primitive Methodist Magazine 1911/911
Census Returns and Births, Marriages & Deaths Registers