Kipling, John (1830-1908)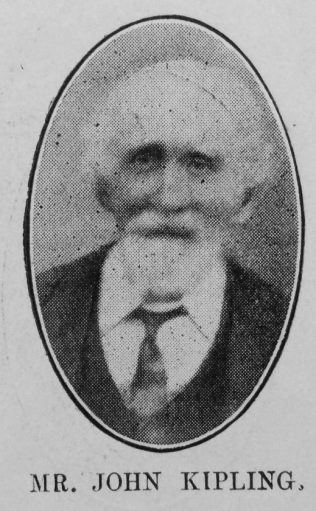 Transcription of Obituary published in the Primitive Methodist Magazine by M.P.D.
The death of John Kipling, of Stockton-on-Tees, which occurred in April last, was the breaking of an interesting link between the past and the present. The memoir of his father, who was converted in 1823, and who is said to have obtained entire holiness in 1832, appears in the magazine of 1843, whilst one of his surviving sons is now senior steward of the society with which he had been associated all his life. He was a scholar in the Sunday School connected with the old Maratime Street Chapel, and very early in life he became a member of the church. His was a whole-hearted surrender to the cause of the Master, and during the strenuous struggles of those early days, he was one of the most constant and successful workers. 
He assisted in the removal of the church from the "Ranters' Buildings" in Maratime Street, to the fine premises that were erected in Paradise Row under the superintendency of William Saul.
Besides that master-builder, Mr. Kipling delighted to recall his association with such stalwarts as Joseph Spoor, John Atkinson and Thomas Southron. For more than fifty years he filled the office of class leader, and not only in this capacity, but as a sick visitor he did a great work for the religious life of the town. He had the joy of seeing great developments in the Primitive Methodism of Stockton, and never allowed himself to get out of sympathy with the work. His judgments were always generous, and in later years his smile was accepted as a benediction.
Though only seventy-two when he died, he had long passed for an old man, and he was beloved and revered by everyone. He was, indeed, a good man, and his quiet, kindly life had a beautiful ending. Never a cloud came to obscure the brightness of his hope, and there was never a failure of temper to spoil the graciousness of his influence. All his life he had been a man of prayer, and it was in the attitude of prayer that passed away.
"Servant of God, well done:
Rest from thy loved employ,
The battle fought, the victory won,
Enter thy Master's joy."
Family
John was born in 1830 at Stockton on Tees, Co. Durham, to parents David and Rebecca. He was baptised on 7 November 1830 at St Thomas, Stockton on Tees.
Census returns identify the following occupations for John.
1861 journeyman roper
1871 rope maker
1881 iron turner
1891 Borer in ironworks
1901 engineering machinist
He married Susannah Atkinson (abt1824-1892) on 29 October 1853 at St Thomas, Stockton on Tees, Co. Durham. Census returns identify five children.
David (1854-1862)
Mary (1856-1878)
James Atkinson (1858- 1935) – an engine fitter (1911)
John (1863-1946) – a ship joiner (1911)
Rebecca (1866-1952) – married Henry Bowes, a retired marine engineer (1939), in 1930
John died on 1 April 1908 at Stockton on Tees, Co. Durham.
References
Primitive Methodist Magazine 1909/242
Census Returns and Births, Marriages & Deaths Registers