Lift, William
A Champion of East Anglia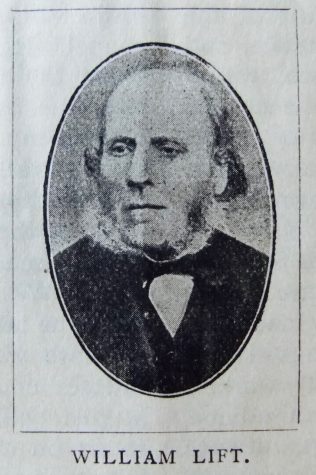 Transcription of 'Sketch' In the Christian Messenger by W.A. Hammond
The Eastern Counties have been favoured with a noble race of self-sacrificing laymen who have splendidly helped to build up the cause of Primitive Methodism in those rural districts—men of devotion and strength, courage and daring, conviction and fidelity, sagacity and loyalty; men who counted the cost of their principles, but readily paid the price, who clearly discerned the truth and steadily suffered to maintain it, who richly enjoyed the experience of religion and zealously sought to establish and extend it. Every circuit had its outstanding laymen, and almost every village its "Hampden" too.
But some circuits have been conspicuous in this respect. They have become foremost circuits not merely because of their geographical position, but because of the strong, efficient laymen who have ruled in their courts and rendered service to their societies – men who have brought great business gifts to the service of the Church and given time and money to the extension of the kingdom of God. Norwich, with Thomas Applegate, William and James Aldous, Sam Fuller, Edward Reeve, and Samuel Jarrold; Yarmouth, with G.T. Goodrich, Joseph Neave, William Perry, John Bitton, John Mason, George Bell, and others: Lynn, with Thomas Lincoln, Martin Gibson, Everard Pank, and W.E. Daw.
But none of them carried greater respect or rendered finer service than did William Lift, of Lynn. Small of stature, neat in appearance, plain in speech, William Lift would not strike the casual observer as a man of unusual strength or of great influence; and yet what power he had! No one would speak of him as being intellectually great or eloquent in speech, but he had that far greater quality which is so often lacking—the quality of practical common sense. He knew how to use his gifts well, to put every ounce of strength into the scale, to work whilst the day lasted. Yes, he could work; that was his outstanding quality. In daily business or church affairs he was no idler. He never stood idle in the marketplace. His master had hired him to work, and work he did – from morn till eve, from the rising of the sun to long beyond its going down. He was a successful business man, and built up a far-reaching business in the town of his boyhood. What a striking trio of business men it was! William Lift, William E. Daw, William Batterbee—all in the same line of business—business rivals, and yet boon companions! Buying, selling, and "killing" during the week, but driving forth together on the Sabbath to proclaim the evangel of the Grace of God. Four o'clock in the morning would see them at the slaughterhouse, seven o'clock in the evening would find them at the class-meeting or the week-evening preaching service. What wonderful rows of prime home-fed pork were displayed in Norfolk Street! But behind the spacious shop was the hospitable home, where the "preacher" was always welcome, and the affairs of the Church more eagerly discussed than the affairs of State or nation. These men lived for the Church; they cared little for politics, and had no time for council or recreation. They lived for the Church. Frequently William Lift was urged to enter the local Town Council, and he could easily have won a seat on that august body, but he would say, "No, one thing I do," and that one thing he did well.
He was converted when he was a lad of twelve years of age, and four years later, when only sixteen, he began to preach. Kings Lynn had only just been missioned by John Oscroft and Thomas Charlton. At first the fire spread rapidly, and the good work advanced by leaps and bounds. But the fire soon burned low, and a terrible reaction set in, which pained the heart of Hugh Bourne and gave him much anxiety. But in those gloomy days of reaction William Lift was won to Christ, and became a statesman in the finest sense of the word. He rose to every position his Church could give him in circuit or district. Few men carried greater power on that wide and powerful circuit than he did, and few men exercised greater influence in the old Norwich district.
In the early days of our Church the circuit officials were mainly local preachers. The proclamation of the Word was regarded as the main business of the Church Not withstanding Hugh Bourne's injunction, "Take care of the children," Sabbath schools were few and far between. Every man who had any talent at all was required to speak for Jesus. Violent hands were quickly laid upon the promising convert; no rest was given him until he set out to preach. If he faltered or stumbled or broke down, he was told to "Try, try again." Congregations were always sympathetic towards the young preacher, and cheered him on with encouraging responses and hearty prayers. But the task was heavy. What journeys they were! What roads to walk! Cycling was then unknown. Primitive
Methodist horses were scarce. Most of the soldiers of the Cross were foot soldiers, and what footmen they were! Ten, fifteen, twenty miles through sunshine and storm, the heat of summer or the rough winds of winter, across storm—swept commons or along miry lanes. But William Lift never faltered, never failed. For sixty-one years he plodded on.
Nor was the service confined to the Sabbath only. Week-night appointments were almost as frequent as Sundays. Missionary meetings, anniversary services, trustees' meetings always demanded the presence of this sturdy worker. He was wise in council, shrewd in advice, diplomatic in business meetings, always approachable by those who sought his counsel, and was thus an invaluable helper to any minister who carried the care of all those churches. He was not a great preacher like Walter Goddard, nor a great evangelist like his friend and companion, Thomas Lincoln, but he was a shrewd, practical, earnest preacher, who knew the truth, and gladly told it out to others, who himself had found the Christ, and anxiously brought others to Him.
For forty years he was the steward of that great circuit—a real Chancellor of the Exchequer. Those were not the days of frequent change. The five years' system had not come into vogue. Possibly the system had its weaknesses, but it developed men of strength. Strong men might become autocratic, but it gave them the chance to render great service, and, when widely used, their prestige and position counted for much in the administration of widely-extended circuits. It was, as it is to-day, an elective office, and for one hundred and sixty times William Lift was elected by the willing votes of his brethren to this highest circuit office. It was no sinecure to him. He took his position seriously. Neither time nor money nor influence was withheld by him. He became a trustee for nearly all the chapels that were built upon that wide circuit. His name is carved into the foundation-stones of some twenty or twenty-one chapels and schools. These are his memorials, the monuments of his devotion, liberality and zeal. His apprenticeship for this onerous work was well served at the beginning of his official career.
Like many another vigorous cause, the Church in Kings Lynn had to worship in plain and unpretentious buildings, but as early as the 'fifties daring spirits conceived the project of erecting the present commodious chapel. Right in a most conspicuous place stood the ancient chapel of St. James. This site was bought for a Primitive Methodist chapel, much to the surprise and chagrin of some straight-laced people of those days. "Little short of a scandal!" said these pious ones as they contemplated the proceedings. But the scandal went on, and the chapel was built. William Lift became a trustee; but more, he laid one of the foundation-stones.
Those were the days when District Committees counted for something. They were august bodies. Only the elect were allowed to sit on them, and they were few indeed. What conclaves they were in that church parlour in Lynn. How their decisions were waited for with breathless anxiety. No man had his price, but each man had his opinion, and the opinion of William Lift meant much. He was a tower of strength. He might not see every side of a case, but he knew the rules and he expected them to be kept. He might not err on the side of sympathy, but he would never be disloyal to the Church, nor unjust to any man whose case came before the Committee. For forty years William Lift served on the District Committee of his District, was rarely absent from District Meeting. Like Stephen, the pious deacon of the early Church, he was full of faith and of the Holy Ghost, and did great things amongst the people, who knew him well, and trusted him because they knew him.
Family and other information
William was baptised on 13 June 1816 at St Margaret, Kings Lynn, Norfolk. His parents were William and Mary.
William married Esther Lamb (abt1816-1859) on 5 October 1840 at St Margaret, Kings Lynn, Norfolk. Census returns identify one child.
Maria (1843-1888) – married Edmond Simmonds Shields, a PM Minister, in 1864
William married Mary Ann Howchin (1835-1923) in the summer of 1860 at Great Yarmouth, Norfolk. Census returns identify seven children.
Alice Miriam (1862-1925) – married William Edward Daw, a photographer, in 1881
Pricilla Ann Mary (abt1864-1944) – married George Matthew Bridges, a scenic artist and decorator, in 1885
Catherine Ellen (abt1865-1889) – married Frederick Dudding, a civil servant, in 1889
Mary Elizabeth (abt1867-1928) – married Walter Ernest Taylor, a hardware, brush and mat factor (1911)
Albert Walter W (b1869) – a pork butcher
Edith Emma Bethiah (1871-1950) – married Charles Edward Trufitt, an analytical chemist, in 1895
Beatrice Esther F (b1873)
William died on 26 November 1893 at Kings Lynn, Norfolk.
References
Christian Messenger 1915/113
Primitive Methodist Magazine 1894/911
Census Returns and Births, Marriages & Deaths Registers
Downloads
Transcription of obituary in the Primitive Methodist Magazine 1894