Mather, Ernest (1878-1950)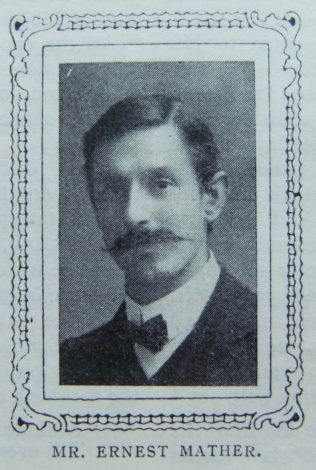 Transcription of 'Sketch' In the Christian Messenger
THE necessary qualifications of a Society steward are many and various. He needs a kindly manner, an appreciative mind, a good business education, and a rare discretion which never fails. The importance of his office demands a constant attendance at all the public services and a real and deep interest in the Church which he serves. Mr. Ernest Mather approaches the ideal. For eight years he has held this post and carried out its duties with distinction. His genial presence is with the minister in the Vestry ere the service begins: the notices are arranged, and, should the preacher be a stranger, the order of service is made plain, and everything done to prepare the way for a quiet and devout time of worship; and every duty associated with his office has the same efficient attention and care.
Mr. Mather is quite a young man, having been born only thirty-five years ago, and his chief interest is in the young people of the Church and their spiritual welfare. He has been associated with the Christian Endeavour movement as one of its chief workers, and, less than twelve months ago, be instituted, with the assistance of his good wife, an Intermediate Society at Broughton, which, from small beginnings, is growing in strength and usefulness. He is also a teacher in the Sunday school, and recently had the joy of seeing some of the young men in his class consecrate themselves to the service of Jesus Christ.
Mr. Mather combines the work of the Sunday school with that of the Church and emphasises their oneness. He has given considerable attention to personal culture, is a wide reader and careful thinker, but above all he maintains a character for high spirituality and steadfastness in the work of God.
Family and other information
The subject of this sketch was probably born in 1878 at Salford, Lancashire, to parents Charles and Sarah Ann. Charles was a 'maker up of calico' in 1881.
The 1901 and 1911 census returns report Ernest's occupation as 'maker up of fustians'.
Ernest married Emily Lawson (1880-1961)) in the summer of 1904 at Salford. Census returns identify two children.
Elsie (b1905)
Margery (b1908)
Ernest's death was recorded in Quarter 4, 1950 at Salford, Lancashire.
References
Christian Messenger 1913/52
Census Returns and Births, Marriages & Deaths Registers