Miller, Henry (1838-1904)
A Cumbrian Worth Knowing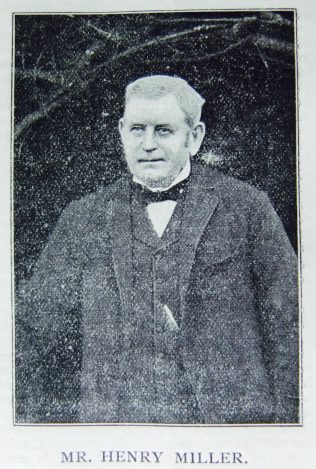 Transcription of Sketch in the Christian Messenger
MR. HENRY MILLER, of Greystone House, Carlisle, was born at Little Broughton, in the County of Cumberland, on May 22nd, 1838. It was in this village that the late Rev. William Graham, whose memory is still fragrant in the North of England, and the Rev. John Snaith, still in the active ministry, were born. At four years of age young Henry Miller removed with his parents to Cockermouth, where he remained until he was fifteen, and then, after three years of wandering up and down the country, settled at Carlisle in the year 1856.
His early years were spent in an atmosphere that did not favour the creation of religious tastes. Neither his father nor mother were decided Christians, though the latter was a woman of good moral character and favourably disposed to religion. She would sometimes entertain the preachers, and Primitive Methodism had a warm place in her heart. It was one of the greatest blows of Mr. Miller's life when, at the age of fifteen, he lost by death his kind and tender mother. When his father married again he determined to leave home and face the world for himself. At twenty-one years of age he found a worthy help-meet, who has proved through long years the great blessing of his life. No married couple have ever enjoyed a happier union than they.
When Mr. Miller was twenty-five years of age a great spiritual awakening took place in West Cumberland, under the devoted labours of Mr. Jobling, a lay missionary from Weardale. The whole country-side was stirred by the power of the Spirit. Notorious characters that had been the bane and terror of the district were smitten by the power of God. Like a mighty wave the Divine Spirit rolled over the towns and villages of the county from Whitehaven to Carlisle. Such men as the sainted Adam Dodds, of blessed memory, John Taylor, now a supernumerary at Kendal, and others who have left their mark on the history of Primitive Methodism, were moving the hearts of the people in the west country, and the whole atmosphere seemed charged with revival influences.
It was during this spiritual upheaval that a Mr. Wm. Stuart, of Bothel, and Mr. Richard Young, of Abbey Town, were won for Christ, and catching the spirit of early apostolic times, carried the truth to others. Mr. Stuart was a brother-in-law of Mr. Miller, and at once sought to win his kinsman by marriage to Christ. Bringing Richard Young with him, he came to the house, and with tears and entreaties besought him to be reconciled to God. With much prayer and exhortation they continued for a considerable time. They were no scholars; they could neither read nor write, but they knew the joy of sins forgiven, and could tell out of a full heart the simple story of the Cross.
The seed scattered that day fell upon good ground, and though the fruit did not at once appear, it was soon to be seen. Deep conviction fastened upon Mr. Miller's mind, and for five weeks he was in an agony of spirit. What he endured cannot be expressed. His heart was breaking. The dark spirits of hell encompassed him, and vexed and goaded his soul until he was well-nigh distraught. But at length at a camp-meeting at Abbey Town he yielded to the power of God, and the light broke in, and his joy was unspeakable. 'The sacrifices of God are a broken spirit: a broken and a contrite heart, 0 God, Thou wilt not despise.' Mr. Miller at once joined the Church, and Primitive Methodism has never had a more loyal and devoted member, nor the Lord Jesus Christ a more faithful servant.
Previous to his conversion drink was his besetment and if he must remain true to his changed life this must be abandoned. It had robbed him of all he possessed, and at the very time he was brought to Christ he lived in a house for which he paid 1s. 10d. rent and was several pounds in debt. He saw that Christianity and total abstinence must go hand in hand, and so it has been that during all the years of his Christian life he has stood true to his temperance principles, and warmly supported the cause. He has been a member of the United Kingdom Alliance for many years.
His business as a horse-dealer is well known in the country, and has brought him into contact with men not always of the best character, yet he has swerved not from the path he commenced, and has remained always true to his Christian and teetotal principles. Mr. Miller makes no pretensions to greatness as popularly understood. Though he has built up a large and lucrative business, and amassed considerable wealth, and though honours have been showered upon him by the Church of his choice, he still retains his simplicity of character and homely Cumbrian dialect. He has a childlike faith in God and an ardent love for the Church through whose instrumentality he was brought into the kingdom. He has been a member of our Connexion for upwards of 40 years, 22 years a class leader, and was for over 20 years steward of the Carlisle circuit/ He has represented his circuit a number of times at the District meeting, and was sent as a delegate to the Bradford Conference in 1889. His well-known face and burly figure are well known at Conference, for he is often there as a visitor. He has taken a deep interest in the Connexional Orphanage from the time of its inception, and is one of the trustees. For five years he acted as district treasurer, and in 1889 was honoured by presiding at the annual meeting. Three years ago he occupied the vice-chair at the Metropolitan Missionary Meeting. His gifts to the Church have been large and his services unstinted.
In all this he has been nobly seconded by his devoted wife, whose motherly kindness and unostentatious goodness impress all who are brought in contact with her. They have had a large family of 18 children 15 of whom have lived to be baptised in a Primitive Methodist chapel. Eleven still survive, five sons and six daughters. Mr. Miller's house is an open one to the ministers and local preachers and a service is conducted on Sunday afternoons in the spacious kitchen for the benefit of those who live in the immediate neighbourhood, and a society of ten members are enrolled in connection with it. Mr. and Mrs. Miller are in fair health and strength, and we pray God to continue His goodness to them and long preserve them to their family, in the midst of which they are so happy; to the Church, whose interests they so nobly serve; and to the world, before whom they set a bright example of godly living.
Family
Henry was born to parents William and Ann. William was a china dealer (1951).
Henry married Sarah Stewart (abt1841-1924) on the 25 July 1858 at Penrith, Cumberland. Census returns identify eleven children.
William (b1860)
Ann (1862-1938) – married Joseph Bulman, a coppersmith, in 1882
Isaac (1863-1941) – a horse dealer
Henry (b1869) – a horse dealer
Charles (1870-1939) – a colliery carter (1901)
Sarah Jane (b1872) – married Edward Fletcher, a draper's sub manager (1911)
Johanna (1874-1924) – married John Varey, a horse dealer (1911), in 1905
Jacob (b abt1879)
Margaret Ann (1880-1963) – married Fred Briggs in 1915
Mary (b1882)
Jessie Stewart (b1884)
Henry died on 17 April 1904 at Carlisle, Cumberland.
References
Christian Messenger 1900/300
Census Returns and Births, Marriages & Deaths Registers