Mantripp, Joseph Sterry (1837-1912)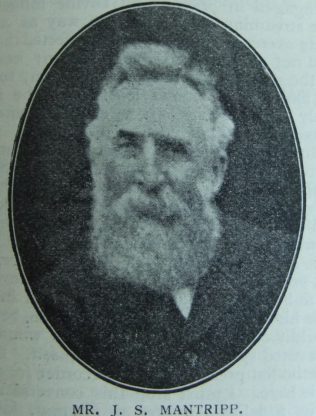 Transcription of 'Sketch' by Rev J. Prouton in the series 'Veterans of our Local Ministry'
Transcriber's note/warning: The sketch relates a domestic incident that is not considered to be acceptable behaviour in the 21st century.
Mr. Joseph Sterry Mantripp, of Swaffham, was born at in 1837, and with his parents attended the Established Church, where he became a favourite of the vicar's wife. Early in his teens, and while apprentice to the grocery business, he attended the preaching of Rev. Robert Key, under whom he was converted and filled with holy rapture. The light could not be hid. Christ was gladly confessed, and with his shop companions, Robert and John Smith, prayer meetings were held in the cheese loft, and sometimes in sand-holes along the beach. The young convert at once joined our church, and soon, by its authority, accompanied Mr. Adam Adams to his appointments, with which is connected a touch of romance, for even to-day the relating of how the elder brother, returning from Burgh St. Peter's on a dark night, lost his tall hat in the river, produces a merry twinkle of the eye and a hearty laugh.
On completion of his apprenticeship he removed to Woodbridge, where several happy and useful years were spent. Belonging to the Kelsale Circuit, his services were in great demand, combining, as they did, great intelligence with spiritual fervour. Quarter by quarter he walked to Orfordness (eleven miles), where resided a hospitable brother, whose wife forbade him to bring preachers home; "but," said the man, "I cured her, and she has no more trouble." "How?" enquired the young preacher. "I took her into the garden," he replied, "and gave her a thorough thrashing." These stern measures proved effective, and Mr. Mantripp found a hearty and kind reception in the home.
The next remove was to King's Lynn, where the young grocer and Christian worker thought he had found almost a paradise: brotherly love, Christly forbearance, and loving co-operation were the governing features of the Circuit's life, and conversions were both numerous and frequent.
Both nature and Providence evidently decreed that our brother should not remain a subordinate all his days. Taking a retail business in Swaffham in 1866, he, by the blessing of God, greatly prospered, and ere long a small wholesale department was established, which has continued till recent years.
It is, however, of the religious life that we wish to speak – his devotion to duty, loyalty to the Church, generosity to the cause of God, and abundant labours.
Miss Wales, of Wangford, long since translated, became the first Mrs Mantripp, and most heartily did she co-operate with her husband in all his efforts. Swaffham Circuit in those days, was heavily handicapped by trust debts, while several villages lacked adequate chapel accommodation, and here our brother and sister saw an opportunity for service and used it. Several building sites were purchased and chapels erected, which are an abiding memorial of holy daring and splendid generosity. Now no large station in the eastern counties is so free from trust debts. The honour of office, though not craved, has fallen to our brother's lot, and has been appreciated, he having been chapel treasurer, also society steward and senior Circuit steward for many years.
As a preacher he stands above the average both in gifts and graces, while his labours have been crowned with success, the churches being greatly edified and souls won to Christ.
We regret, but are not surprised to find, that, after fifty-three years of public work, his physical powers are waning, but we pray that one who has relieved the poor and cheered the widow's heart may himself, in the evening of life, experience a holy joy and calm delight, and eventually have an abundant entrance into the Eternal Kingdom.
Family and other information
Joseph was born on 27 April 1837 at Lowestoft, Suffolk, to parents Samuel and Mary. Samuel died when Joseph was very young and Mary was a shopkeeper. Joseph was baptised on 28 July 1837 at Lowestoft, Suffolk.
His obituary records that Joseph was elected to a seat on the Local Board of Health and later on the Urban District Council. He also carried out an unseen ministry bringing food to the hungry and gladness to the home. He managed for parcels of food to reach families weekly.
Joseph served as District Treasurer for the Equalisation Fund. The mission cause in Africa was particularly dear to him. All the empties connected with his grocery business were sold and the proceeds given to the mission fund.
Joseph married Anna Wales (1842-1876) in late 1866 at Wangford, Suffolk. Census returns identify one child.
Edith Catherine (abt1869-1956) – married Herbert Robert Heyhoe, an auctioneer and surveyor, in 1898
Joseph married Sarah Elizabeth Wales (1838-1891). Sarah was the sister of Anna. (No marriage record identified.)
Joseph married Mary Ecclestone (abt1843-1920) in the summer of 1897 at Swaffham, Norfolk.
Joseph died on 6 September 1912 at Swaffham.
References
Christian Messenger 1907/341
Primitive Methodist Magazine 1912/916
Census Returns and Births, Marriages & Deaths Registers