Morecroft, Thomas (1840-1914)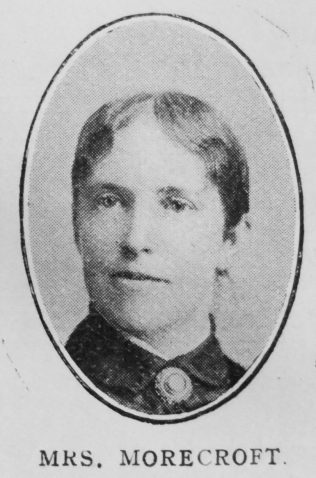 Transcription of Sketch In the Christian Messenger Thomas Clamp
By common consent "Thomas Morecroft of Handsacre," merits a permanent place in the records of our Church. His life's motto: "God first," hung in his home up to his death, and after forty-three years' knowledge of him we know that he was true to his ideal. This was settled, once for all, when he picked up the torn leaves of "Pike's Early Piety," by the wayside, which led him into light. The book was ever dear to him, and he gave scores of copies to young men. He wrote at this time, "I humble myself this day in deep humility, Oh my God and Saviour! I give myself to Thee this day, body, soul, heart, mind, life, all I have and am. May this covenant never be broken!" Belonging to no church, he decided in favour of the Primitive Methodist. But from Rugeley to Lichfield – a distance of eight miles – we had no cause. He invited the Stafford Circuit to mission Armitage and Handsacre, villages which join each other. His house in the latter – his own freehold – was opened for services and a class formed, of which three-parts were of his own surname. On February 14th, 1867, he wrote, "Oh Lord! strengthen the desire of my heart which is to build a house of prayer for Thy glory, the honour of my Redeemer and the spiritual welfare of my fellow-creatures." Land was secured under conditions which would have cowed the average man, a Chapel built, a second followed, and subsequently the Temple, admittedly one of the best of our village churches. In the course of time he secured an endowment for it, and we understand he has not forgotten it. A few weeks before his death, he discussed with the writer plans for its further improvement, and added, "as to cost, that need not trouble you. The Sunday-school, which he superintended, had a warm place in his heart, especially the young men's class.
To Stafford Circuit he seemed, at one time, indispensable. For twenty-seven years he was its Steward and a Local Preacher for a longer period. On March 7th, of the year of his death, the officials gave him an Illuminated Address testifying to his unwearied labours in the circuit, his loyalty to our Church, the Christian values of his life, and devotion to Handsacre cause.
In Mrs. Morecroft, who survives him, he had a worthy helpmeet. For long years she was Missionary Collector. She is on the Lady Orphan Homes Committee of Tunstall District, and was one of the earliest Lady Trustees in our Church. She has long made "Westfield House" a place of ideal hospitality; a pleasure shared by Mr. Morecroft's son and two daughters.
With the lapse of years health declined, and enforced a long retirement to a health resort. Partially restored, he again plunged into business and church life. Anxious friends advised relaxation, others urged complete retirement, but were unheeded. A sudden collapse, followed by a week's complete prostration, brought on the end on November 5th, 1914, at the age of seventy-four years. The Rev. D.S. Lees, a former minister, preached his memorial sermon.
Family and other information
Thomas was baptised on 5 December 1840 at Armitage, Staffordshire. His parents were Thomas, a brickmaker, and Harriet.
Census returns identify the following occupations for Thomas.
1861 engine driver
1871 brickmaker
1881 brickmaker
1891 brick and tile maker
1901 brick and tile merchant
1911 builder's merchant
Thomas was married to Elizabeth (abt 1839-1888). Census returns identify three children.
Lois Elizabeth (1874-1952) – married Frederick Sawyer, a grocer, in 1904
Eunice Harriet Jane (1877-1949) – married John Warner, a sanitary caster, in 1917
Thomas William (abt1883-1943) –a brick manufacturer
Thomas married Anna Maria Stanton (abt 1848-1924) in late 1889 at St Giles Registration District, London.
References
Christian Messenger 1918/31
Census Returns and Births, Marriages & Deaths Registers