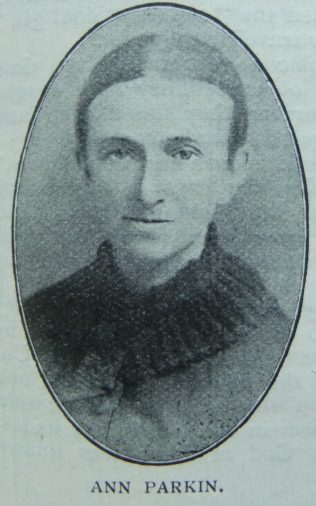 Transcription of Obituary in the Christian Messenger
Sister Ann Parkin was born at Satley, in the Crook Circuit, County of Durham, on September 16th, 1837, and died at Spennymoor, October 20th, 1905. She was converted in our Billy Row Chapel in 1864, and was a consistent member of our Church for a period of forty-one years. Her home was always a resting-place for our preachers, and she cheerfully entertained them with true Christian hospitality. Her long and painful illness was borne with great patience and Christian fortitude. The writer visited her at a time when she was very weak, and found she was fully trusting in the precious promises. As she approached the haven her prospects bloomed more brightly; the twilight of the eternal day unfolding itself, she said, "It is all well;" "I am my Lord's and He is mine:" "to patient faith the prize is sure, and all that to the end endure the cross shall wear the crown." And as we think of her we are constrained to say "Mark the perfect and behold the upright, for the end of all such is peace." May the departure of all of us be as peaceful and triumphant as was that of Sister Parkin.
Family and other information
Ann was married to Thomas Parkin (abt1831-1912). Census returns identify three children.
Margaret (1859-1862)
George (b1861) – a coal miner
Mary Jane (b1867)
Thomas was a coal miner for most of his working life. In later life he became a grocer.
I have not been able to determine Ann's maiden name, although some family trees on Ancestry.com identify her as Ann Robson.
References
Christian Messenger 1907/125
Census Returns and Births, Marriages & Deaths Registers