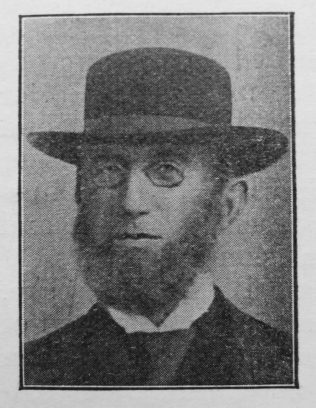 Transcription of Obituary in the Primitive Methodist Magazine by B. Fell
Mr. John Peet, of Southport First Circuit, passed to his rest and reward on May 2nd, 1905. He was born on May 6th, 1835, and hence attained the allotted years within four days.
He was born at Churchtown, Southport, and received his first religious impressions in the Congregational Sunday School, where he was a scholar until sixteen years of age.
It was, however, through the agency of Primitive Methodism that he was led to Christ, and at the age of seventeen he became a member of the Marshside Road Church. The now flourishing church at Marshside was then in its infancy and knew much of struggle and difficulty, in which young Peet shared to the full, and was in the front rank of toil and self-sacrifice. It may have been that the demands made upon the courage and faith and devotion of the men of fifty years ago in our churches, helped the development of a robust Christian manhood. At any rate in this case, as in the case of so many of that period, a singularly strong, manly character evolved.
In his youthful days, and more especially after his conversion, he gave attention to reading and study, of which his matured and riper years gave evidence. His familiarity with the Scriptures and his grasp of the great saving truths of the Gospel impressed all who conversed with him. All his life he was a Bible student, and so to the last his Christian character put on strength and beauty.
Everyone must have been impressed with his spirituality. No subject had such charm and interest for him as the work of God and things spiritual. And it has been the habit of his life to retire to pray before leaving home on business or pleasure, for a journey, and in later years before he went his walks as well as to the House of God.
We mention these things to show that his composure and confidence when face to face with death have an easy explanation. It was thus that he could say to his medical attendant, "I have no fear of death. For years I have trusted in the merits of a redeeming Saviour."
In the providence of God he prospered in business and hence has been able to render considerable financial aid to the varied interests of the Church. The fine suite of premises at Russell Road, High Park, were commenced largely through his influence. Indeed, in the initiation and development of our work there he had a foremost place. For many years the Society Steward at Marshside Road, he took charge of a similar capacity of the new interest at High Park. As class leader also, and teacher of a Men's Bible Class, and in many other ways he has rendered valuable service.
During the superintendency of the Rev. E. Mather, so impressed was he with the need of additional labour for the development of the work at High Park that he placed the sum of £50 in the hands of Mr. Mather for that purpose.
In the social and municipal affairs of the borough he took an active part. From 1886 to 1897 he represented the Scarisbrick Ward in the Town Council, where his intelligence and business aptitude, coupled with sterling character, gave him considerable influence. For some years his health has been manifestly failing, but he continued to lead his class until within a few weeks of his death, and was regular in his attendance at the means of grace.
A brief and painful illness brought a fine career to its close. His patience and fortitude in suffering were as marked as had been his active labours. His calm, beautiful trust in Christ much impressed the writer, and all about him felt an atmosphere of heaven. And so, as he had lived he died, and "rests from his labours, and his works follow him."
Mr. Peet was singularly happy in his domestic life. His wife, who with a son and daughter mourn his loss, was the daughter of Mr. J. Kellet, who had the distinction of being the pioneer of Primitive Methodism in Southport.
And right worthily has Mrs. Peet, through all the years, sustained the devotion to God and Primitive Methodism seen in her honoured father.
A large and representative gathering followed the mortal remains of Mr. Peet to the place of burial – St. Cuthbert's Churchyard – Revs. F. Smith, J. Whittle,  E. Mather, and the writer taking part in the obsequies.
Family
John was baptised on 31 May 1835 at Churchtown Independent Chapel, North Meols, Lancashire. His parents were John Peet, a farmer, and Elizabeth Hodge.
Census returns identify the following occupations for John.
1851 farmer's son
1861 farmer's son
1871 grocer
1881 grocer
1891 grocer
1901 grocer
John married Elizabeth Kellett (abt1836-1913) in the spring of 1864 at Southport, Lancashire. Census returns identify two children.
Margaret (1868-1944) – married James Peet, a sanitary inspector (1911), in 1896
John (1874-1947) – a draper's assistant (1905); a draper & stationer (1911)
References
Primitive Methodist Magazine1906/492
Census Returns and Births, Marriages & Deaths Registers