Pickard, John (1827-1915)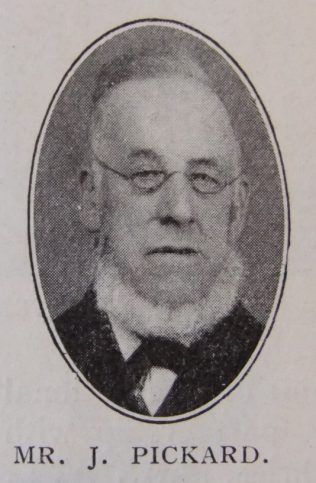 Transcription of Magazine 'Sketch'
Mr J. Pickard, C.C., is eighty years of age and has been a member of our church over sixty years. He has known many of the founders of the Connexion and had the honour of entertaining Hugh Bourne. He has been a class leader fifty-five and Sunday School worker fifty-nine years. His portrait handsomely framed hangs in the Reform Street School with a brass plate bearing the inscription, "An expression of gratitude for his love and faithful services as superintendent of the school." He has attended six District Meetings and five Conferences. He was the first President of the Sutton-in-Ashfield Free Church Council. For nearly half a century he has taken an active part in local and public affairs, and at the present time is a member of the Notts County Council and on the Local and County Education Committee. He is on many Chapel Trusts in the Circuit and numerous members of his family are loyal adherents to our church.
Family and other information
John was born in 1827 at Leicester, Leicestershire, to parents William and Sarah. William was a framework knitter in the hosiery industry.
The family moved to Huthwaite and later to Sutton in Ashfield. John was among the scholars who laid their pence on the foundation stones of the Reform Street Chapel in 1840. He walked on the annual Whitsuntide procession over seventy times.
John was circuit steward of the Sutton and Kirkby Circuit from its formation.
John served as a Guardian of the Poor.
Census returns give the following occupations for John.
1851 framework knitter
1861 hosier
1871 hosier
1881 manufacturer of woollen, silk and cotton stockings
1891 hosiery manufacturer
1901 hosiery manufacturer
1911 hosiery manufacturer
John married Mary Ann Haynes (1828-1902) in the summer of 1848 at Sutton in Ashfield, Nottinghamshire. Census returns identify nine children.
John (1850-1853)
Thomas (abt1855-1947) – a headteacher (1911)
Luther (1858-1924) – a hosier (1915)
William Henry (1860-1925) -a hosier (1915)
Mary Ann (b abt1863) – married William Brown, a draper
Ada Lilian (b abt1866) – married Henry Arthur Dennis
Sarah (1868-1945)
John (b1870) – a hosier (1915)
Florence (1873-1953) – married Joseph Henry Brailsford, a teacher
John died on 24 January 1915 at Sutton in Ashfield, Nottinghamshire.
References
Primitive Methodist Magazine 1908/047; 1915/742
Census Returns and Births, Marriages & Deaths Registers