Peach, Hannah (nee Grainger) (1836-1909)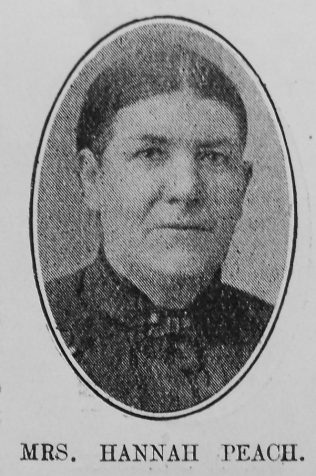 Transcription of Obituary published in the Primitive Methodist Magazine by D.M.B.
The late Mrs. Hannah Peach, who passed away at the village of Inkerman, Selston, Notts., March 17th, 1909, was a characteristic Primitive Methodist. A cluster of admirable qualities and graces which included a rich personal and conscious experience of the love of God, an abounding gratitude which found frequent and confident expression, great zeal for God's house, intense loyalty to her Church, and an ardent desire for the salvation of her fellows, we think most certainly revealed her type and at the same time magnified the Grace of God. 
She had seventy-three years of life and for forty of those she served God quietly, sincerely and fruitfully. During that long period Inkerman Church was privileged in her membership, generosity and labours. Alike during the seasons of success and those in which success seemed an almost impossible dream, Mrs. Peach and (while he lived) her equally devoted husband were faithful to the Church because faithful to God. For twenty-eight years she lived in "the chapel-house" and we verily believe that if she had not her most deep desire would have been ungratified. For "the cause" was at once her joy and her anxiety, and the very bricks and mortar were beautified because she saw them in the light and glory of the Eternal who was at once Lover of her soul and Lord of her life. 
Never holding an official position Mrs. Peach did much for God's cause and she did most by just being "good." The tribute of friends is that she was faithful to the light she had and let it also be said, that, if perhaps her light was not as great as that enjoyed by some, it was neither dim nor flickering and we know it was sufficient to give her a triumphant entrance into the Father's House. Borne by those who had long and often met with her in worship and praise, the body of Mrs. Peach was interred in Selston Churchyard after a service which was held in Inkerman Chapel. The writer officiated at both services.
Family
Hannah was born on 15 May 1836 at Kimberley, Nottinghamshire, to parents Robert Grainger, a framework knitter (1841), and Sarah Winterbottom. She was baptised on 12 June 1836 at Ilkeston Wesleyan Methodist Chapel, Derbyshire.
She married James Richard Peach (abt1840-1899), a coal miner (1861), in late 1857 in the Basford Register Office, Nottinghamshire. Census returns identify eleven children.
Elizabeth Grainger (1857-1919) – married James Hammond, a coal miner, in 1877
Ann (abt1859-1908) – a dressmaker (1881); married George Bacon, a coal contractor (salesman) (1901), in 1881
Hannah (1860-1947) – a domestic cook (1881); married William Henry Scott, a general labourer (1901), in 1885
Joseph (abt1862-1936) – a coal miner (1881); army reserve (1901); coal miner (1911)
Joyce (1864-1924) – a general servant (1881); married James Watkinson, a coal miner (1891), in 1888
James (1867-1938) – a coal miner (1881); joined Grenadier Guards in 1885; discharged 1897; a coal miner (1911)
Mary (b abt1869) – married Samuel Brown, a coal miner, in 1891
George (1870-1949) – a coal miner (1891); colliery checkweighman (1911)
William Richard (1875-1944) – a coal miner (1891); a coal miner contractor (1911)
Herbert (1878-1932) – a coal miner (1911)
Sarah Alice (b1880) – married Arthur Hopewell, a coal miner (1911), in 1904
Hannah died on 17 March 1909 at Inkerman, Selston, Nottinghamshire.
References
Primitive Methodist Magazine 1909/744
Census Returns and Births, Marriages & Deaths Registers