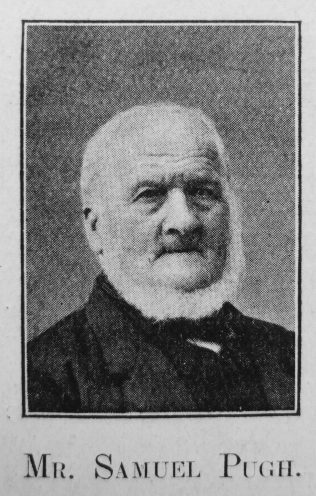 Transcription of Obituary in the Primitive Methodist Magazine by W. Perry
The late Samuel Pugh was born in the year 1822, and entered into rest February 8th, 1904. He knew little or nothing of his parents, and had to fight his own way in the world almost from childhood.
Schooling, in the proper sense of the word, he had none. But when a young man he came to see the need, he went to school and paid the fees out of his modest wages as a farm labourer. He made some little progress in elementary subjects of education, but his reading was chiefly confined to the Bible, the Hymn Book, and our Connexional serials.
When nineteen years of age he was invited to a meeting at Leighton, near Welshpool, and joined our people.
His piety and modest but sterling qualities were soon apparent, and his name appears on the plan as a local preacher in 1842.
As a preacher he was plain and quiet. He was by no means noisy or ambitious. As a class leader he was apt and diligent. When his son, John, was converted, and attended his first class meeting, his usual calm and quiet manner gave way to the utmost demonstration of joy and gladness.
In 1848 he became united to her who has so briefly survived him and now rejoices in the reunion. She also has been a local preacher for fifty-five years, and in 1898 on the occasion of their golden wedding a presentation consisting of an illuminated address and a purse of money was made to them.
He never sought for place, or power, or wealth. He was happy and contented in doing the duty that lay near. He was uniformly cheerful. His joy was not in the things that were visible or outward. He knew the meaning of those words. "It shall be in you."
The Rev. J.P. Bellingham writes: "I knew Mr. Samuel Pugh in the years of 1851-2-3, and at that time he was a devoted local preacher on the Welshpool Station. He and his good wife imparted very valuable service in the cause of God. He travelled many miles on the Lord's Day to preach the Gospel of Christ to people on the mountains and valleys of that district. He was a sober, peaceful and industrious man; his heart was fixed on God, and his life was consecrated to the work of the Lord. The stability of his character and his faith in the Gospel of Christ were evidenced in his godly life. I pray that God's blessing may rest on them who mourn their loss."
The Rev. A. Smith who knew him in recent years says : "His religion was of a very cheerful and healthy character, manifesting itself in his home at all times." During the long illness there was no impatience or murmuring. Christ was the joy and glory of his life. Such a fulness of soul gave evidence that his life had been true and faithful. His services and those of his wife had been very helpful to the circuit at a time when most needed, and when difficult to render."
A large congregation assembled to take part in a memorial service which was held Sunday, Feb. 28th, when a sermon was preached by the writer on, "Thou shalt come to thy grave in a full age, like as a shock of corn cometh in, in the season."
Family
Census returns identify the following occupations for Samuel.
1851 agricultural labourer
1861 agricultural labourer
1871 railway platelayer
1881 platelayer
1891 general labourer
1901 retired farmer
Samuel married Elizabeth Weaver (1824-1904) on 16 May 1848 at Welshpool, Montgomeryshire. Census returns identify two children.
John (abt1850-1926) – a coal agent (1911)
Hannah Elizabeth (1855-1934) – married Edwin Higginbottom, a mechanical engineer (1901), in 1886
References
Primitive Methodist Magazine 1905/156
Census Returns and Births, Marriages & Deaths Registers