Rowlinson, George Henry J.P. (1852-1937)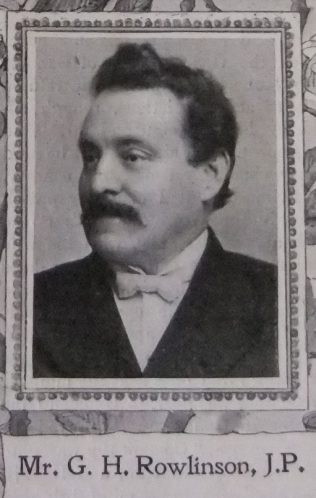 Transcription of Magazine 'Sketch'
G.H. Rowlinson, Esq. J.P., who hails from South Staffordshire, was converted under the ministry of Rev. John Prosser. With determination and perseverance he has achieved considerable success in life as a business man, local preacher and lecturer. He has been representative to District meeting thrice and Conference twice, and in addition to being circuit steward he has filled many other offices with credit to himself and advantage to our Connexion. However, his happiest moments have been when he witnessed colliers and others break down under the mighty influence of the Holy Spirit. In 1886 he settled in the Forest of Dean and was a member of the United School Board until the Bill of 1902, and a member on the County Education Committee ever since, and is also now chairman of one of the largest District Councils in England. Considering his lack of education in early life, and having to commence to work in the pit at the age of seven years and nine months, his success has been remarkable and is an evidence that man can arise above his environments.
T.G.
Family and other information
George was born in 1852 at Walsall, Staffordshire, to parents Samuel and May. Samuel was a miner.
Census returns identify him as a miner's agent during the time he lived at East Dean, Gloucestershire. Kelly's Directory 1902 for Cinderford, Gloucestershire identifies that George worked for the Forest of Dean Miner's Association.
George married Sarah Lane (1853-1942) in the spring of 1872 at West Bromwich, Staffordshire. Census returns identify three of five children.
Samuel John Thomas (1873-1950) – a boot dealer (1911)
Eliza Ann (b1875) – married Frank Misselbrook Woodman, an insurance agent
George Henry (b abt1881) – a boot and shoe shop assistant (1911); emigrated to USA in 1922
George died on 23 May 1937 at Cinderford, Gloucestershire.
References
Primitive Methodist Magazine 1907/760
Census Returns and Births, Marriages & Deaths Registers