Robinson, George (abt1835-1917)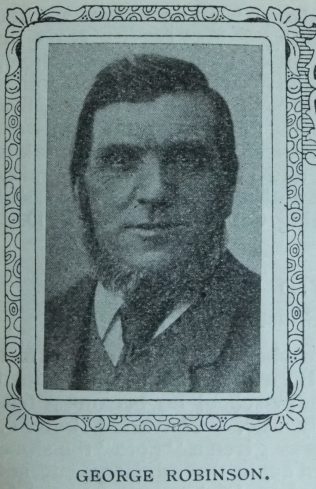 Transcription of 'Sketch' in the Christian Messenger
Few are more worthy of a place in the Local preachers' Gallery than George Robinson. Length of service, sterling character and spiritual fervour alike entitle him to this.
He was among those who started our cause in Cleethorpes. Converted under Charles Bowman fifty-three years ago, he has maintained a connection with our Church to the present. Nor has he been sparing in labours. For fifty years he has been a school superintendent and a local preacher for forty-seven. He is a sturdy son of the sea. Fearless in danger, steadfast in duty, his life has been a standing witness to the power of grace.
As a local preacher he is not only acceptable but popular, and welcome in every pulpit in the Circuit. When Grimsby and Tetney Circuits were one, the journeys long and appointments many, George Robinson was among the most regular and faithful. His congregations counted on his presence and profited by his ministrations.
Plain of speech, with a somewhat brusque manner, he has a warm heart and an attractive style. Quaint and original, a vein of mingled humour and pathos makes his words powerful and his pleas persuasive. He has strong convictions, and holds the truth with a victorious grip. The old truths are dear to him, and he proclaims them with great clearness and force. He is a general favourite at home alike with the young and the aged, in a field at a school feast or revival service with a mission band. His house has always been open for the preachers.
The shadows have fallen upon him latterly, but he bears the burden of life bravely and is still equal to some service.
He and his devoted wife have recently received from the Cleethorpes Society, as a mark of respect, Kendall's "History of the Connexion," the Church and School Hymnals and other gifts. May the sky of their evening be without a cloud.
J.G.
Family and other information
George was probably born abt 1835 at Cleethorpes, Lincolnshire, to parents George and Elizabeth. George, senior, was a fisherman. George was baptised on 10 May 1835 at Clee Old, Lincolnshire.
George followed his father as a fisherman, although the 1881 and 1891 census returns identify that he was also a grocer.
George married Sarah Davis (abt 1835-1915) in the spring of 1858 in the Caister Registration District. Census returns identify six of eight children.
George William (1864-1924) a fish dealer
Fanny (1865-1936) – married Charles Wade, a stone mason, in 1892
Kate (b1867) – married Jesse Earnshaw, a clerk, in 1896
Thirza Ellen (1872-1953) – married Charles Coulbeck, a carrier, in 1900
Frederick (b1875) – a fish merchant (1901)
Jesse (b abt1877) – a fish shop assistant (1901)
George died on 26 February 1917 at Cleethorpes, Lincolnshire.
References
Christian Messenger 1907/193
Census Returns and Births, Marriages & Deaths Registers