Rigby, Henry Albert (1881-1910) and Rigby, Elizabeth (nee Bell) (1884-1911)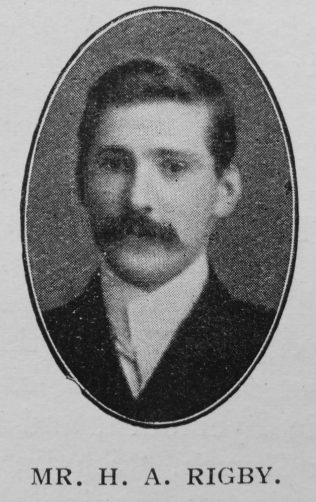 Transcription of obituary published in the Primitive Methodist Magazine
Bro. Henry Albert Rigby, of Platt Bridge, was taken from us suddenly in February, 1910, aged 28, in the midst of his labours. He had served successively as Sunday School teacher, President of C.E. Society, and Superintendent of Sunday School. A more ready and devoted worker could not be desired. He left his widow and two children to mourn his loss.
Mrs. Elizabeth Bell Rigby (widow of above), after a short illness was removed to Wigan Infirmary for an operation, where she died July 24th, aged 27 years. Mrs. Rigby had scarcely got over the loss of her husband when her last illness came upon her. She devotedly supported her husband in all his Christian duties, and even after his death her home was always open for the ministers and preachers. She leaves behind two little girls to the care of her father, Henry Knox, who has supported her and comforted her in her sorrows and during the loss of her mother. Our prayers and sympathy are for the bereaved ones.
Family
Henry was born abt1881 at Pemberton, Lancashire, to parents Thomas, a coal miner, and Betsy.
Census returns identify the following occupations for Henry.
His probate record describes Henry as a coal dealer.
He married Elizabeth Bell in late 1904 in the Wigan Registration District. Census returns identify two children.
Esther (b1905)
Betsy Owen (1910-2001) – married John W Travis in 1932
Henry died on 23 February 1910 at Platt Bridge, Lancashire.
Elizabeth was born abt1884 at Pelton, Co. Durham. Henry Knox, a coal miner (1891), was her adoptive father.
Elizabeth died on 24 July 1911 at Wigan, Lancashire.
References
Primitive Methodist Magazine 1911/829
Census Returns and Births, Marriages & Deaths Registers