Skinner, James (1864-1942)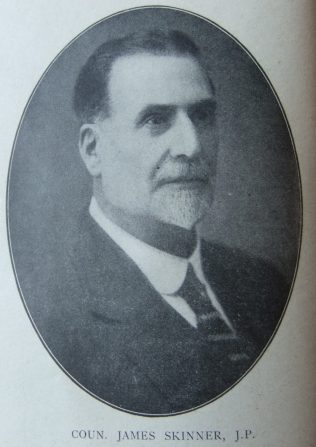 Early years
James was born on 20 June 1864 at Over, Cambridgeshire, to parents William and Alice. William worked the land.
James was converted at seventeen under the ministry of Rev W Franks. With his conversion came an intellectual awakening and the birth of a desire for an ampler life than the narrow horizon and drab monotony his native village seemed to offer. At eighteen, he went forth on his great adventure and left home for London. He had been preceded by his close friend, George Bicheno, who later became a PM minister.
Business Life
Before moving to London, circa 1882, James worked the land. In London he became a life assurance agent and gained promotions within the insurance business to become an insurance superintendent by 1901.
Contribution to the Connexion
On arrival in London, James aligned himself with Surrey Chapel. Through his godly training, his fidelity to his temperance pledge and his eager activity in various forms of Mission work, James came scathless through the fiery furnace of the city's temptations. He became a local preacher and Sunday School teacher.
James became Secretary to the Surrey Chapel Trust and later circuit steward despite moving to live seven miles away in North London.
James served on many Connexional committees and became treasurer of the Local Preachers' Aid Fund.
James was Vice-President of Conference in 1924.
Contribution to the Community
During WW1, James was Chairman of the Prince of Wales Fund Committee and Vice-Chairman of the Food Committee for the Borough of Islington, Chairman of the London Insurance Committee and the Medical Benefits Committee, and a member of the London County Council.
At the time of his election to be Vice President of Conference, James was on Islington Borough Council.
In 1915, in recognition of his manifold public services, James became a J.P. for the County of London. He was granted Freedom of the City of London in 1924.
Family
James married Harriet Whybrow (b1865) in early 1886 at Lambeth, London. Census returns identify four children.
Lilian Alice (1887-1981)
Frank (1888-1920) – an insurance agent (1911); died following injuries as a WW1 PoW
Harold (b1893) – a commercial clerk (1911); later an insurance official (1942)
Leonard James (1898-1971)
James died on 18 April 1942 at East Barnet, Hertfordshire.
References
Primitive Methodist Magazine 1925/41
Census Returns and Births, Marriages & Deaths Registers