Stephenson, Richard (1844-1916)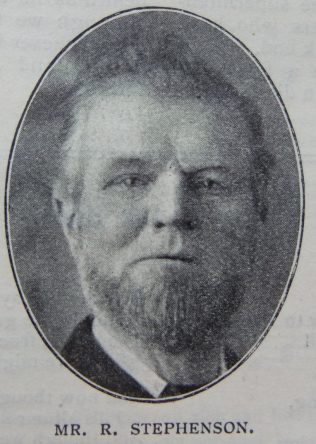 Transcription of 'Sketch' in the Christian Messenger by Rev. R. Walton in the series 'Veterans of our Local Ministry'
Mr. Richard Stephenson, of Haswell, is a man to whom the Primitive Methodist Church owes a very great deal.
As he goes to and returns from his work, or takes his place in the congregations of worshippers, there may be nothing to mark him off from the others, but it is well known that his quiet, plodding Christian labours, and sterling character place him ahead of the rank and file.
Born at Wallridge Fell, he was still young when his parents removed to Coxhoe, then part of the Durham Circuit, and he was favoured with a fine Christian home, his father being a class leader, and his mother a member. Indeed he was something like Timothy, his grandmother was a devoted follower of Christ, and took great interest in the religious welfare of her grandson. An aunt of his also helped to shield him from evil and direct him in his striving after good, for she was a member, and she highly prized everything connected with her church. She died at the ripe old age of eighty-one, having been a member seventy-one years, and had preserved all her all her class tickets with one exception. The religious attention thus paid him was rewarded, for whilst he never entered into sin, and regarded himself a Christian, it was when thirteen years of age that he began to attend class. When sixteen years old his talents, and piety, and zeal had become so manifest that he was put upon the plan, the Rev. J Bastow being the super of the Circuit. His first appointment from home was at Framwellgate Moor, and the task of meeting it was so heavy, that, but for his mother's encouragement he would have remained at home. "Bracing himself up" he went, and had the glorious delight of seeing three converts at the close of his day's labour. This decided him, and although he afterwards had many trying moments, and weary journeys, he faithfully attended his appointments and put his best efforts into them.
Another removal brought him to Haswell forty-seven years ago, where he is now. He can tell some stirring tales of the labours of those days. The Durham Circuit then embraced what are now the Spennymoor, Thornley, Wingate, and Coxhoe Circuits, so it was a common thing to travel fourteen and fifteen miles to the Sunday's appointments. But, not withstanding the long journeys the men were happy in their work, and never allowed a mere trifle to keep them at home. It was their Master's work, and they felt not only that they must, but that they were glad to do it.
Richard's choice of a wife was a Miss Forster of Haswell, who has proved a true "helpmeet" to him as a Christian, and a Primitive Methodist. Kind, helpful, neighbourly, she has been the village friend, visiting the stricken and needy, and ready to respond to those who sought her help. The last few years' affliction has crippled her energies and confined her to her home, but her advice is still sought by those who have had practical experience of her worth.
The family consists of one son and six daughters, all of whom are members and earnest workers in the church. The son is one of the most acceptable of local preachers, and a zealous Sunday school teacher. The oldest daughter has been in charge of the C.E. for some years, and one of the daughters is Sunday school secretary and together with a sister a member of the choir.
The influence of his home is seen in his grandchildren, for as soon as they are able to work they find something to do in connection with the church, and this year one of them (aged seven) has collected for the Missionary Fund the sum of £1 6s., being 8s. in advance of last year.
This year is Mr. Stevenson's Jubilee year as a preacher, and the Circuit Quarterly meeting showed its appreciation of his character and labours by presenting him with a Bible and a purse of gold.
During fifty years he has taken 2,300 service for our own people besides his services for others, and at Haswell alone he has occupied our pulpit more than 300 times, and the Wesleyan pulpit 50 times. He has seen 130 converts at his Haswell services, and 400 at other places. It will thus be seen that his popularity and labours are pretty general. Some men are popular away from home and at home they are nothing more than a name. Not so with Mr. Stevenson. Home receives the first place in his consideration. He leads a class every Wednesday evening, attends all the public services, is a trustee, spends some time in visiting, and takes his full share in the activities of the church. There is no ostentation about him, and no catering for position. Quiet, peaceable, and gentle in demeanour, he is more than willing to endure an injury than to cause one. He has suffered, and suffered intensely, but he has endured it with Christian fortitude, patience and trust. There has been no murmuring by him, but a greater reliance upon the promises of God. He has a tender and unsympathetic heart, and is sure to go where he can comfort another. He may not be able to give as much as those who are better circumstanced than he, but his portion is always there, and he helps when no one but the recipient knows of it. A loyal Primitive Methodist, he gladly welcomes to his home any of our members, and for years has entertained the superintendent minister and the preachers who have been taking services for the week-end.
As a preacher he is quite a favourite. Thoughtful, evangelic, chaste in diction, and well read, he always pleases and edifies those who hear him. The ministers have no bother where to plan him. The years and hard work are beginning to tell upon him, but he looks quite hale for his age, and he willingly takes his appointments.
One of his early companions in labour, and life-long friend, Mr. Geo. Clarke of Haswell Moor, has just entered his eternal rest, and another, the Rev. W. Cuthbert, was superannuated last Conference.
The church which can produce such characters as Mr. Stevenson is worthy of our love, and when a church has such members as he and his family, it has nothing to fear. Adverse conditions may arise and threaten destruction, but they will be as the storm which beat against the house founded upon the rock. They have Christian devotion, intelligence, energy, and perseverance, and these will certainly abide, and gain adherents to their side.
The prayers of the church are that Bro. Stephenson will see his Diamond Jubilee as a preacher, and that he will enjoy as good health as he does now. His end will come, although we trust not for many years yet; but whenever it does, it will be to a life full of labours and love for the Master and His Church.
Family and other information
Richard was born in 1844 at Wallridge Fell, Co. Durham, to parents Joseph and Elizabeth. Joseph was a coal miner.
Census returns give the following occupations for Richard.
1861 coal miner
1871 fruiterer
1881 potato merchant
1891 grocer/fruiterer
1901 greengrocer
1911 drainer for district council
Richard married Margaret Jane Foster (Forster in some records) (1840-1911) in late 1866 at Haswell, Co. Durham. Census returns identify seven children.
Ann (b abt1868-1911) – married Joseph Young, a manager in Co-operative store clothing department, in 1895
Elizabeth (abt1869-1918) – married Thomas Young, a Singer machine agent, in 1890
Margaret Jane (b1871)
Hannah (b1872) – married Joseph Bones Donkin, an insurance agent, in 1894
Matthew Foster (1874-1957) a drapery manager (1911)
Esther (1877-1958) – married Ralph Fairless, a colliery keeker, in 1910
Frances Alice (1879-1918)
Richard died on 16 January 1916 at Haswell, Co. Durham.
References
Christian Messenger 1908/125
Census Returns and Births, Marriages & Deaths Registers