Salthouse, Elizabeth (nee Riley) (1839-1911)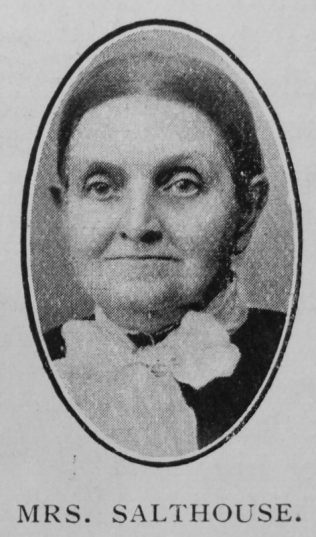 Transcription of obituary published in the Primitive Methodist Magazine by J.W.
Mrs. Elizabeth Salthouse, the beloved wife of Mr. R. R. Salthouse, a much esteemed local preacher in the Southport Second Circuit, was translated to the higher service on August 2nd, in her 73rd year. For over fifty-five years she had been a consistent and devoted member of our Church. Converted in our John Street Chapel, Pendleton, she, with her husband, commenced a mission in Derby Street, Salford, which is now the Trafford Road Church, and also a mission in Whit Lane, Pendleton, that has become one of the most aggressive churches in Manchester.
Mrs. Salthouse was a true mother in Israel, and by the purity of her life and sweet ministry brought comfort and blessing to many hearts. She was regular in her attendance at the means of grace, and took special delight in the class meeting and in the Sunday evening prayer meeting.
But in the home you saw her at her best; prayer and praise were the atmosphere in which she lived, and her children are a noble monument of her enduring influence. Her generous hospitality will be remembered by many of our ministers. Her name is fragrant among all who knew her; the appreciation of her character was seen in the many touching letters of sympathy her husband received. A little over twenty years ago she and her husband came to reside in Southport, and they at once joined the Church Street Church. 
For a few months before her decease she had been in failing health, but her home-call seemed to come very suddenly. The interment took place on Saturday, August 5th, in the Southport Cemetery. Service was held in our Church Street Church, conducted by the Revs. J.T. Barkby, J. Prestwich and John Whittle.
Family
Elizabeth was born on 21 April 1839 at Heywood, Lancashire, to parents James Riley and Esther Whitworth. She was baptised on 4 August 1839 at St Luke, Heywood.
She married Ralph Robert Salthouse (1842-1919), a green grocer (1871) in the spring of 1865 in the Salford Registration District, Lancashire. Census returns and birth record identify ten children.
Sarah Ann (1867-1931)
Elizabeth Ellen (1869-1949) – a sweet dealer (1911)
William Henry (1871-1871)
Samuel James (1871-1871)
Mary Eliza (1872-1873)
Martha Hannah (1874-1962) – married Robert Rimmer, a Salvation Army officer (1911), circa 1903/4
Robert (1876-1876)
John Riley (1878-1963) – emigrated in 1911; a painter (1938); died in New Zealand
Robert (1880-1881)
Joseph (1884-1885)
Elizabeth died on 2 August 1911 at Southport, Lancashire.
References
Primitive Methodist Magazine 1911/991
Census Returns and Births, Marriages & Deaths Registers