South, Thomas William (1854-1908)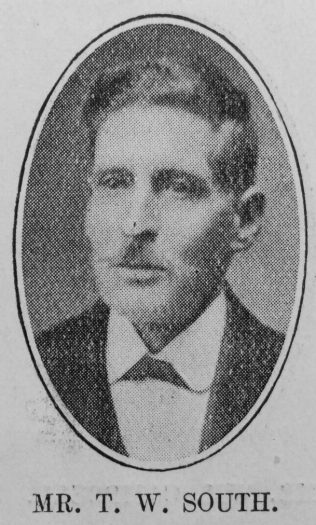 Transcription of Obituary published in the Primitive Methodist Magazine by J.W.C.
The Nelson Circuit sustained a very severe loss when its steward, Mr. Thomas W. South, was called, on March 31st, 1908, to the higher service. He was still in the prime of his age, if not exactly in the full vigour of manhood, when the call came. He was, however, quite ready to answer the summons.
Mr. South had been associated with Primitive Methodism for thirty-six years; first at Goole, where he was born, then at Knowlwood, where for a few years he laboured in his opening manhood, before passing to Nelson. He was a member of the District Committee and once represented the Circuit at Conference. 
The Circuit Quarterly Meeting passed the following resolution: 
"With sincere sorrow we mourn his loss. He was ever a diligent and faithful servant of Jesus Christ, a tried and trusty friend. We miss him in the councils of our Church; his strong, practical good sense, his prudent directorship of affairs, his homely wisdom, and his unfailing good humour won for him the esteem and confidence of all his fellow-workers.
For many years he served as School Superintendent' and Trust Treasurer, fulfilling his duties with great credit. And since the formation of the circuit he has borne the burden of the stewardship with patient fidelity.
We express our gratitude to God for the strenuous and unselfish life of our dear brother."
Mr. South was a man of quiet mien, undemonstrative, but one whose piety took an intensely practical turn. And being free from the cares of business during the last few years of his life he gave himself without reserve to the service of the churches in any way, howsoever homely.
The funeral took place on Friday, April 3rd. A service was held in the Netherfield Road Church in which the Revs. J.W. Chappell, J.H. Middleton, F.N. Shimmin, and G. Rennison took part, prior to the interment. And on Sunday, April Sth, the Rev. Jonn W. Chappell preached a memorial sermon in the Netherfield Road Church.
Family
Thomas was born abt1854 at Hull, Yorkshire, to parents James, a gardener, and Ann. He was baptised on 26 February 1854 at St Stephen Holy Trinity, Hull.
Census returns identify the following occupations for Thomas.
1881 corn miller
1891 foreman corn miller
1901 corn miller
He married Susey Greenwood (abt1854-1934) in early 1878 in the Todmorden Registration District, Yorkshire. Census returns identify three children.        
Hannah (1879-1962) – a weaver (1911); married Elijah Now, a cotton loom overlooker (1939), in 1912

                         

Eva (1884-1946) – married Tom Broughton, a grocer shopkeeper (1911), in 1908
James (1889-1945) – a clerk (1911); head cashier for cotton and rayon manufacturer (1939)

         
Thomas died on 31 March 1908 at Nelson, Lancashire.
References
Primitive Methodist Magazine 1909/156
Census Returns and Births, Marriages & Deaths Registers