Starling, Edith (nee Butcher (1884-1912)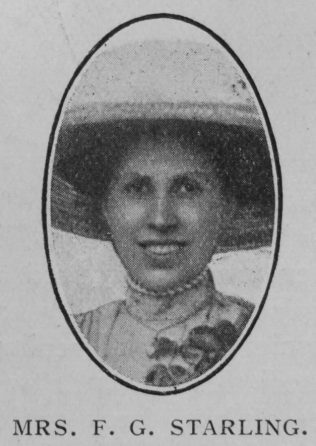 Transcription of obituary published in the Primitive Methodist Magazine by J.J.W.
Edith, the well-beloved wife of the Rev. F.G. Starling, was born in 1884. From her earliest childhood she delighted in every good work; indeed she was cradled in the Sunday School and Church. Hence we cannot give any definite date for her conversion. The Lord so gently opened her heart that she gladly received Him, and so knew scarcely anything of the terrors of sin. 
Her early delight was to play the organ and lead the service of praise in the Wesleyan Church at Stanford-le-Hope, and she continued in that office until her marriage to Mr. Starling six years ago. The local papers, in describing her work at Brigg and Winterton, express their pleasure with her vocal efforts, and speak of her valuable work to all denominations, especially of her kindly ministrations to the sick and poor. 
As wife and mother her devotion and interest were intense. Her memory is sweet, and though the two now motherless children claimed her best attention, yet during her illness she was heard trying to sing, "Thy will be done." She sank quietly into the arms of Jesus on May 23rd. The Winterton Church was filled on Whit Monday for the Memorial Service, conducted by Revs. W. Mainprize, F.L. Hines, and J. Burkitt. The interment took place at Stanford-le-Hope, Essex, where the service in the Wesleyan Church was conducted by Revs. H. Hopper, J. Southall, and J.W. Whittaker.
Family
Edith was born in the spring of 1884 at Stanford-le-Hope, Essex, to parents Herbert Butcher, a builder, and Esther Surry.
She married Frederick George Starling (1876-1944)in the summer of 1906 in the Orsett Registration District, Essex. Census returns and birth records identify two children.
Kathleen Mary (1907-1993) – married Cecil W Neale in 1933
Kenneth John (1912-1924)
Edith died on 23 May 1912 at Winterton, Lincolnshire
References
Primitive Methodist Magazine 1912/742
Census Returns and Births, Marriages & Deaths Registers