Stewart, Thomas (abt1830-1912)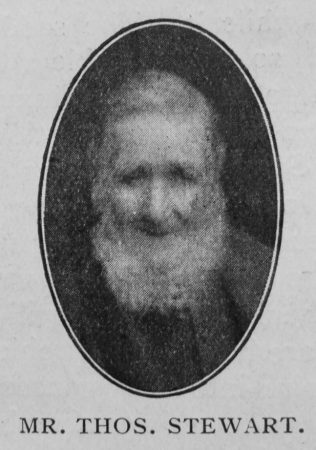 Transcription of obituary published in the Primitive Methodist Magazine by E.C.
Thomas Stewart, the father of the Lemington Circuit, entered into rest October 6th, 1912, in his eighty-fifth year. Few have so many years as he, and few put them to better use than did Thomas Stewart. Mr. Stewart was above the average man in intelligence, culture and mental training. He had been trained to clean living and high thinking. He was familiar with the treasures of both natural and revealed religion; he knew something of what Nature disclosed in the science of astronomy and botany; his walks by field or road could never be lonely, for the flowers were his companions by day and the stars by night, and he often gave instructive lectures on these sciences to our people.
He enriched his life by good reading; he was well versed in the theology of his Church, and knew well the history of the Church's struggle for faith and freedom. His familiarity with the literature of this and other days made his preaching fresh and instructive, and his Scotch accent, his quaint, natural humour, made his message winsome and attractive. There was a world of good in the little man, a man beloved for his goodness. He loved the Church and found joy in the fellowship of its members. He was a zealous and devoted' Christian; he knew the value of the Scriptures as an aid in the struggle of life. 
If a great teacher and faithful preacher, he was also an ideal class leader. They say in his church, "We liked his preaching, but we loved him as a class leader, a man of rich and ripe experience." He could enter with sympathy into the varied experiences of the members of his class, and with rare tact he gave them counsel and guidance. He had a mile and a half to walk to chapel, yet he was seldom absent from Sunday or weekday services. 
His last days were full of pathos. A worker ever willing he had at last to succumb and say, "I cannot do as I would do." At eighty-five years of age he had two double appointments at the east end of the circuit. These were regarded as the farewell visit of Mr. Stewart to this part of the station. I will never forget the tone in which he said with tears in his voice, "You will get them supplied, for I am too weak in body to go." His last service in the church was at his class meeting. He came from that service and never left his room again. He must have had some premonition of the approaching end, for his last words to his members were:—"It will not be long before we reach our heavenly home." He is there now, and his reward is in being "For ever with the Lord."
Family
Thomas was born abt1830 at Kirkcudbright, Scotland.
Census returns identify the following occupations for Thomas.
1861 railway labourer
1871 colliery labourer
1891 colliery labourer
1901 colliery labourer
1911 retired colliery labourer
He married Margaret Laidlay (1839-1921) in late 1860 at Castlecarrock, Cumberland. Census returns and birth records identify four children.
John (b1861)
Mary (1864-1869)
Agnes (1867-1924) – a servant at home (1911)

   

William (b1870) – a coal miner (1891)

       
Thomas died on 6 October 1912 at Prudhoe, Northumberland.
References
Primitive Methodist Magazine 1912/992
Census Returns and Births, Marriages & Deaths Registers