Sutton, Benjamin Charles of Freethorpe (1863-1945)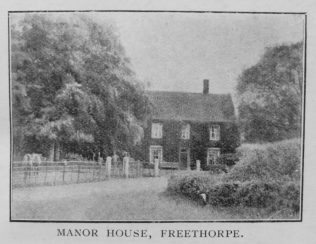 Transcription of article published in the Primitive Methodist Magazine by An Onlooker
TO be a stalwart in a village requires courage of an exquisite texture. Even when the sphere of responsibility is limited, leadership is only maintained by careful procedure. Village life is never stagnant in respect of criticism of conduct. When  responsibility is more extended and the stalwart is a religious leader, a pioneer in social service, the largest employer of labour in the place, and the brain of a great business, then his position affords a test of character convincingly severe. Such a position occupied and maintained for twenty years or more not only deserves recognition, it demands it. Courage of this strenuous quality is a shining virtue.
Benjamin Sutton of Freethorpe is known throughout Norfolk as a big man and a stalwart Primitive Methodist. He is a well-developed "human"; big physically, morally, and spiritually. He is a fine example of what the Church can do for a man, and of what a man can do for his Church.
It would have been difficult for Benjamin Sutton to have been other than a Primitive Methodist. He is of the third generation of those who have served our Church by doing faithful work in secluded places. Only in his case he has made the secluded place conspicuous in Norfolk Primitive Methodism. His maternal grandfather, Mr. Charles Hazel, was Society Steward at Blofield for many years. His mother also was a quiet worker in our denomination. Her consistent life was the source of much beneficial influence. His father became a member at a later period.
The days of Benjamin's youth were days of romance in the history of Primitive Methodism. What an appeal was made to courtesy when Elizabeth Bultitude, then travelling on the Norwich Circuit, was seen trudging up the village street after a seven-mile walk from the city! Her coal-scuttle bonnet and green gingham umbrella, as well as her dignified conduct in home and church, are still vivid memories. At the village school he was a marked lad. His father was among the first to welcome Joseph Arch when he made East Anglia the theatre of his propaganda for raising the agricultural labourers from their serfdom. This fact and Methodism brought to the boy insult and punishment. Often the dinner carried to school was eaten in solitude. Education in a two-fold sense was being carried on, and the lesson taught in those days by little priggish  politicians and autocratic religious opponents abides. All this was helping to develop in the young stalwart that passionate conviction of Nonconformist principles, that burning love of his ancestral Church which mark him today.
Mr. Sutton's first and only break with village life was for educational purposes. It was on the advice of the minister, always a power in the village homes of Norfolk, that Benjamin was sent to an Academy in connection with the Presbyterian Church at Norwich. Even there the ties that bound him to our Church became strengthened. The ministers stationed in the city would often meet him at the school gate and accompany him to his lodging. This considerate concern, accompanied by tactful conversations, on the part of Samuel Thackrah and Edmund S. Shields, is remembered with gratitude and bears fruit to this day. It was a bold venture for those times to send a village lad to a city school. In this case it was a good investment. The beneficial results are being reaped in many ways. After schooldays the problem of how to make a living had to be faced. Its solution brought Mr. Sutton to Freethorpe. His connection with the village, his business, and the Church began almost simultaneously. His decision for Christ was made in his twentieth year, at a service held in the kitchen of Mr. Henry James Waters' home at Panxworth. At once he joined the Church at Freethorpe, and entered upon a course of service that has linked the names of Sutton and Freethorpe inseparably, and which has issued its beneficent influences in many places. Strangers are impressed by the fine property we possess at Freethorpe. And we owe it to his foresight and strenuous advocacy. The village has only just over four hundred inhabitants, and our Church has seating capacity for as many people. What is more wonderful in this day of mourning on account of decreasing congregations, the seats are always well occupied. At the week-night service there are usually seventy or eighty persons present. It was a difficult task to get away from the former chapel. The old people cherished the ancient and out-of-date place for the fragrant memories connected with it. But the land was bought and the scheme carried through in triumph. The property cost one thousand pounds in 1896; the debt to-day is two-score pounds. Primitive Methodism is the Established Church of the village, although our success has not been detrimental to the Anglican community.
When the new church was ready Mr. Sutton started a Bible Class for young men. The claims of the  pulpit in an ever-enlarging sphere have, however, obliged him to reluctantly — relinquish the leadership, but the class still flourishes. A son of the founder is a worker in this institution, and it has given three local preachers to the Circuit. One of its present members has the record of six years' unbroken attendance. A Young Men's Institute has its home in the Schoolroom, which is open for reading and games each week-night, with the exception of that devoted to the preaching. The majority of the young men attend the service. Football and cricket clubs are connected with the Institute. It hardly needs to be said that the temperance element is strong both in the village and among our people.
It would be too much to claim all this as the result of Mr. Sutton's influence. Others, notably those of the Waters' family, had prepared the way. Quaint, solid, good men they were, and they laid the foundations truly and well. But there was need for leadership when Mr. Sutton came to the village. There was no local preacher in connection with the fellowship then; now there are five, while five others, who are the product of the new regime, have gone forth to work in various places near and far. Then we were a Church in the village; now we are the Church of the village. It is not too much to claim that this revolution has been effected because every ounce of Mr. Sutton's energy has been exerted for God and his Church. The villages can always be ours when such devotion, generosity and zeal are dedicated to their welfare. The home life of Mr. Sutton is delightfully natural. Generous hospitality accompanied with natural courtesy characterise East Anglian Primitive Methodism. Many have experienced these at Freethorpe. His residence, The Manor House, was formerly occupied and is still possessed by the Walpole family. There yet remain in the house valuable paintings and prints which are heirlooms. One of these depicts Robert Walpole in his robes and order as Knight of the Garter. Another is Gainsborough's portrait of the wife of Richard Walpole.
Times have changed! Many historic residences in East Anglia are now tenanted by Methodists. The old aristocrats would be astonished and confounded could they return to behold the strange reversals time has wrought. But Mr. Sutton is happy in these surroundings. His wife is of true Primitive Methodist stock. His son and daughter are of the fourth generation of Primitives on both their father's and mother's side. The daughter became, last year, the wife of the Rev. E.S. France. Business takes Mr. Sutton away from home a great deal, but he makes it a point to get back to Freethorpe for the week-night service. He has not missed this more than six times in twenty years. Although trade is so real a vocation to him, he can easily detach himself from its interests and anxieties. After a strenuous day in Norwich Cattle Market he will motor home, and, after tea, lose himself in the delight of his favourite authors, Alexander Whyte and Alexander Maclaren. Work is better than worry, and work earns the right of recreation.
Mr. Sutton is held in high esteem throughout the Norwich District. He is Circuit Steward of the Acle Circuit, Local Preacher, and Trustee of several chapels. He has been to Conference, and has been Vice-Chairman of the District Meeting. He has also taken a great interest in the social work of our Church, while all aggressive work has his sympathy and benefits by his generosity. He has not yet been Vice-President of Conference, but we must "wait and see." Other honours have come to him. He is a County Magistrate, County Councillor, Chairman of the Parish Council, and has done good work on the Small Holdings Committee.
 It is good to be able to say of such a man that he is still young. Mr. Sutton was born in 1863. Physically he is good to look upon, a picture of robust health. A talk with him discovers a keen mind. Morally and spiritually he is alive and aware. He has served his Church well, and will, if he lives, continue to serve it, his influence widening with the years. His latest gift to the sanctuary of his own village is land for a cemetery. May it be long before he finds a resting place therein! The passion of his life is that the Church of the Lord Jesus may be glorified. To this end he devotes his time, talents, means. Best of all, he gives himself for this purpose and has taught others the secret of his passion. Of such a man we can be justly proud, and we are proud of our Church because among her sons she numbers stalwarts of this sterling metal.
Family
Benjamin was born on 2 December 1863 at Blofield, Norfolk, to parents Benjamin Sutton, a blacksmith (1871) and grocer (1881), and Susannah Hazell. He was baptised on 10 April 1864 at Blofield.
Census returns identify the following occupations for Benjamin.
1891 butcher
1901 butcher & farmer
1911 farmer, butcher & cattle dealer
1939 farmer and grazer
He married Hannah Youngs (1863-1927) in late 1885 at Freethorpe, Norfolk. Census returns identify two children.
Hilda (1887-1968) – married Ernest spooner France, a PM minister, in 1911
Myrna (1894-1956) – a farmer
Benjamin died on 19 November 1945 at Freethorpe, Norfolk. he was buried in the Methodist Churchyard. He left an estate valued at £100,465.
References
Primitive Methodist Magazine 1912/350
Census Returns and Births, Marriages & Deaths Registers