Turley, Alfred George J.P. (1858-1937)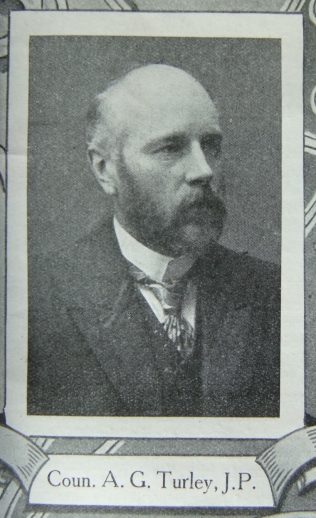 Transcription of Magazine 'Sketch'
Mr. Turley has recently come to the office of Chancellor. His election was popular and unanimous. By Loyalty and generosity he has won his spurs and endeared himself to the people of West Bromwich. His best work has been done at Queen Street. All its improvements bear the impress of his hand. Successful in business, he has not grown too big for his church. Each Sabbath finds him at his task. Often after teaching in the school he hurries to a distant appointment to proclaim the Word of Life. Few men are more magnanimous, none more deeply loved. Unostentatious in manner, kind to the poor, tender in sympathy, unaffected in demeanour, he is beloved by his brethren. He carries religion into business and home. With open Bible and family prayer he begins each day. In all his endeavours to serve the interests of his church his faithful wife has breathed a spirit of encouragement and inspired our friend with hope.
R.W.R.
Family and other information
Alfred was born in 1858 at West Bromwich, Staffordshire to parents William and Eliza Ann. William worked at an ironworks. Alfred was baptised on 25 April 1858 at Christ Church, West Bromwich.
Alfred was a prominent West Bromwich businessman with a factory in the town as well as his furniture showrooms. He sat for the Spon Lane ward on the borough council, was a justice of the peace and he served four years as mayor of the town, 1904-06 and 1914-16. In 1924 he was awarded the OBE.
Alfred married Emma Evans (1858-1923) in the summer of 1878 at West Bromwich, Staffordshire. Census returns identify four of eight children.
Beatrice (1884-1960) – married Walter J Crowther in 1925
Alfred George (1888-1990) – a furniture designer (1911)
Lilian (b1890) – married Arthur Whitcomb Smith, a motor mechanic, in 1916
Harold Ernest (1891-1967)
Alfred died on 16 May 1937 at West Bromwich, Staffordshire.
References
Primitive Methodist Magazine 1910/54
http://www.blackcountrybugle.co.uk/shop-need-home/story-25817186-detail/story.html
Census Returns and Births, Marriages & Deaths Registers