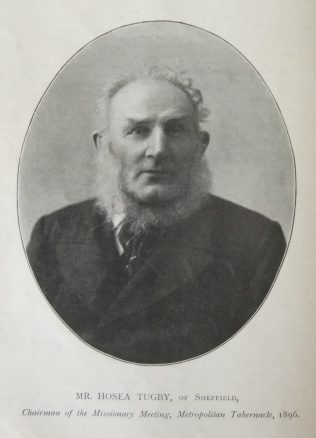 Early years
Hosea was  to parents Hosea Tugby and Ann Robert. Hosea senior was a hawker and dealer in salt. The family moved to Whittingham Moor, Chesterfield. Ann was converted under the preaching of Rev Dr Samuel Antliff during the first year of his probation at Chesterfield.
Hosea was converted in 1857. His conversion came during a period of illness when he feared he would not recover.
Business life
Hosea moved to Sheffield in 1857. Conversion awakened within him an ambition to improve his position. He began trading, with a little borrowed capital, as a metal broker. His business prospered. Census returns variously describe him as an earthenware dealer, general dealer, Marine store dealer and metal broker.
Contribution to the Connexion
On moving to Sheffield, Hosea joined the Bethel Society in Cambridge Street. His religion was described to be of the emotional rather than intellectual type. He preferred the practical and experimental settings of the truth. As a young man, Hosea spent 14 years as the leader of a mission band.
Hosea served as a class leader for over 30 years, and for a considerable period of time was responsible for two classes. He was a Circuit Steward for 15 years and was a delegate to District Meetings and Conference. He was known as a 'preacher's friend', opening his home to visiting ministers.
In 1896 Hosea was chairman of the annual Missionary Meeting at the Metropolitan Tabernacle.
Family
Hosea married Elizabeth Wright (1837-1912) on 9 November 1856 at Chesterfield.
Hosea died on 13 December 1896.
References
Primitive Methodist Magazine 1896/483
Census Returns and Births, Marriages & Deaths Registers