Thurger, Ann (nee Juggins, nee Daniel) (1843-1910)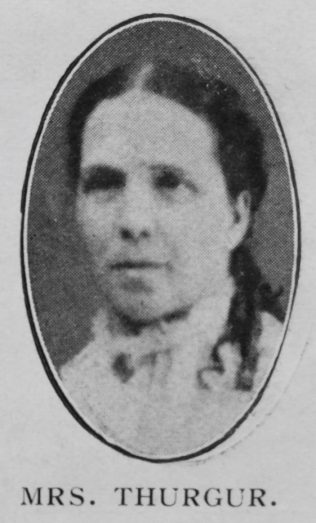 Transcription of obituary published in the Primitive Methodist Magazine by George Kendall
Shieldmuir Church has suffered a great loss in the death of Mrs. Thurgur on June 6th, at the age of 66. Mrs. Thurgur became a Christian worker when quite a girl, and used to take services at the chapels around her home long before she was married. In 1869 she married the Rev. Wm. Juggins, an honoured minister in our Church, who died in 1882. Three years afterwards (in 1885) she was married to Mr. H. (J.C.) Thurger, who had been a Methodist minister for 20 years. Although at that time he had retired from the ministry, he still occupied the pulpit nearly every Sunday, and found in his wife a most sympathetic helper. 
A friend writing of her says: "She was a wonderful help to Mr. Thurgur in his Christian work. She could take special services for him, and everywhere was well received. She was a splendid visitor, and yearly collected a good sum of money for our Missionary Funds. She was so courageous, nothing seemed to daunt her, and she had such a winning way with her that people would give to her when they would not to anyone else."
About five years ago she came to reside with her daughter, Mrs. Frame, and was placed on the Shieldmuir Plan as a local preacher. Her life was full of brightness and spiritual beauty. Her testimonies in the Class Meeting were full of power. She loyally supported her Church and paid her class money before she died. At the Quarterly Meeting, held on the day of her burial, testimony was borne to her goodness, and a record placed in the minute book. 
We laid her to rest in the Cambusnethan'Cemetery on June 9th, the Rev. George Kendall officiating. A beautiful wreath was sent by the Church.
A special memorial service was conducted the Sunday evening following by Rev. G. Kendall. She being dead yet speaketh.
Family
Ann was born in late 1843 at Much Cowarne, Herefordshire, to parents John Daniel, who worked the land, and Mary Ann Lewis. She was baptised on 24 December 1843 at Bishop's Frome, Herefordshire.
She married William Juggins (1825-1882) in the summer of 1870 at Bromyard. Census returns identify two children.
Harriet Hader (b1877) – a cashier at grocery in 1901
Lillian Ruth (1879-1882)
She married James Curson Thurger (1912-1906) on 26 May 1886 at Diss, Norfolk.
Ann died on 6 June 1910 at Shieldmuir, Lanarkshire.
References
Primitive Methodist Magazine 1910/739
Census Returns and Births, Marriages & Deaths Registers