Walmsley, Benjamin (1845-1910)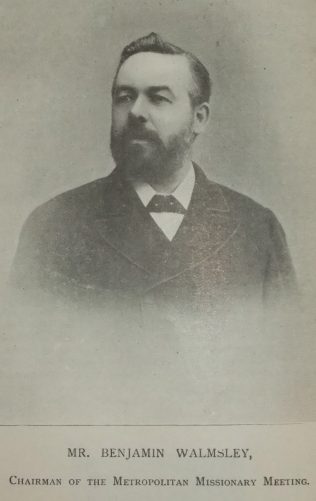 Early years
Benjamin was born in 1845 at Newport, nr Howden, East Riding, Yorkshire to parents Benjamin Walmsley and Margaret Morritt. Benjamin senior was a wire maker and rim turner.
When 18, Benjamin removed to Beverley to learn his trade. There he came under the influence of Rev George Lamb. At the close of his apprenticeship, Benjamin spent two years at Scarborough. There he was a member at the Jubilee Chapel.
Business
Benjamin started his own business at Normanton. He moved to Leeds circa 1872 and became a successful builder.
Contribution to the Connexion
At Normanton, Benjamin took a leading part in the forming of a new society and building a chapel.
With his brothers, Benjamin was also generous in assisting chapel building and maintenance in his native circuit of North Cave.
At Leeds, Benjamin was a member of the Rehoboth Church. In later years he devoted himself to the Brudenell Road Mission.
Benjamin was heavily involved in the development of the Connexional Orphanage in 1887. He became the first treasurer of the Orphanage in 1888. In 1893 an orphanage was erected on the Walmsley Estates.
Benjamin was Chairman of Metropolitan Missionary meeting in May 1901.
Family
Benjamin married Susannah Pickering (1853-1877) in late 1874 at Wakefield, Yorkshire. Census returns identify one child.
Mary Jane (1875-1970) – married Thomas Francis Dales
Benjamin died on 14 December 1910 at Leeds, Yorkshire. He left an estate valued at £139,730.
References
Primitive Methodist Magazine 1901/403; 1911/322
Census Returns and Births, Marriages & Deaths Registers
Downloads
Obituary published in the Primitive Methodist Magazine 1911