White, Emily (nee Gilbert) (1842-1931)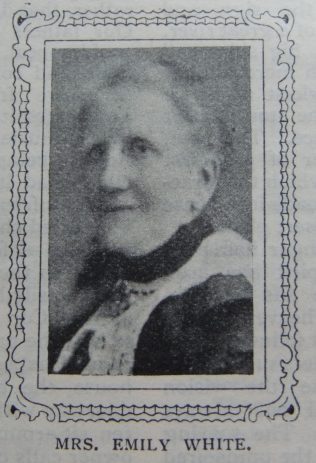 Transcription of 'Sketch' in the Christian Messenger
Mrs. Emily White, wife of Mr. Alfred White, our esteemed Circuit Steward, is one of the most enthusiastic workers in connection with our church at Frome.
When six years of age, she was taken to the Sabbath school, and from that time has had an unbroken connection with that institution for the long period of 58 years, first as a scholar, then a teacher.
She joined the church at the age of seventeen, and at once commenced to labour with hearty zeal.
There is no department of Church work but what she is interested in; her liberality in subscribing and collecting for the missionary cause, her visitation of the sick, for which she is specially adapted, her practical help to the poor, also her spiritual interest in the young people, by these and other means she has rendered invaluable service.
The Class Meeting she especially loves, and for thirty-five years has held the office of Class Leader with conspicuous success.
She possesses gifts and graces which make her an ideal Class leader.
Her bright Christian spirit, her hopeful disposition, her cheering words, her tender consideration of others – these rich endowments make her a great blessing to many.
She never misses her class if it at all possible for her to attend.
Her experience is always rich in spiritual fervour; discouraged ones are helped, and the weak are strengthened by her cheerful spirit and timely words.
She is a fine example of what a godly home can produce, for she is the daughter of the late Thomas Gilbert, who was one our most devoted and earnest Local preachers, and whose labours extended over sixty-five years. We pray that our sister may yet be long spared to us for service.
Family and other information
Emily was born in 1842 at Frome, Somerset, to parents Thomas and Elizabeth. Thomas worked with wool.
Before her marriage, Emily was a wool weaver.
Emily married Alfred White (1843-1922), a baker, in the spring of 1869 at Frome, Somerset. Census returns identify two of three children.
Lily Gilbert (1877-1942) – married Ernest Gregory French, a PM Minister, in 1905
Roland Gilbert (abt1879-1919) – a music teacher
Emily died in the summer of 1931 at Frome, Somerset.
References
Christian Messenger 1908/50
Census Returns and Births, Marriages & Deaths Registers