Williams, John (1839-1926)
A Link with Hugh Bourne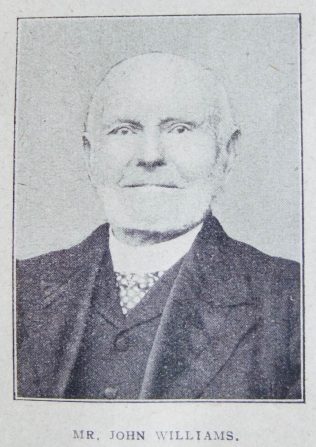 Transcription of Sketch In the Christian Messenger by Rev. G. Osborne
MR. JOHN WILLIAMS belongs to that diminishing band of faithful workers whose lives have been inspired by living touch with the founder of our church. His mother, Mary Williams, was a remarkable woman. She and her husband, Richard Williams, were among the pioneers of Primitive Methodism in south-east Denbighshire. By their zeal and enterprise they laid sure the foundations on which the prosperous Rhosymedre Circuit is built. Their home was the "house of hospitality" for all the preachers, and here Hugh Bourne stayed when he visited Rhosymedre and the adjacent district. During these visits, John Williams, then a lad, spent much time in his company, walking and even sleeping with the "genius" who reared the Primitive Methodist church. It is not to be wondered, at that the boy was vividly impressed, for he who advised preachers to "remember the children," faithfully observed that precept. He distinctly remembers one Tuesday night in the year 1848. Hugh Bourne preached at Rhosymedre on Solomon's Temple, and so realistic was the preacher's portrayal of the Temple and its effects that the boy went home to his mother and asked, "Mother, when did Mr. Bourne visit the Temple at Jerusalem?"
There are enshrined in his memory the prayers Hugh Bourne offered on the hearth of his home, and his words of wise counsel are treasured to this day. "Live a good life, say your prayers, and you shall shine as stars in the firmament." was our founder's advice, and the boy has not forgotten the exhortation.
During a walk across the great viaduct over the Dee – then nearing completion – Hugh Bourne noticed a button on the bridge, and told John to pick it up. It was a trifling incident, but the boy never forgot the lesson intended, and by attention to the smallest details in the business of life, John Williams has prospered. The comfort and leisure enjoyed by him at Hillingdon House, are largely the outcome of his diligent observance of Hugh Bourne's lesson concerning the button on the bridge.
The association of John Williams with our work in this district has been of long duration, and varied in its nature. The Sunday school was begun by his mother at her home during the twenties of last century, and transferred to the chapel when it was erected in 1832.
This institution has always claimed the interest of our brother. Though to day an honorary teacher, by reason of his years, he has had an unbroken connection with the school for seventy-five years.
He remembers with gratitude the ministries of saintly men who travelled in the Oswestry Circuit before the Rhosymedre Circuit was formed in 1876. Among the giants of those days the names of the Rev. Thomas Guttery, David Prosser, and the father of the Rev. Tolefree Parr are treasured. They are regarded as worthy successors of the "man of God" who influenced his boyhood days. The wider claims of our church's work in circuit and district have always elicited his sympathy. Our churches and connexional institutions are helped by his hand, while our church at Vron is often inspired by his generosity. Despite his eighty-three years his interest in our work does not flag, and as he looks back to the days when he met Hugh Bourne, and reflects on the development of Primitive Methodism in this Welsh county, he thanks God for the prosperity of our Zion.
Family and other information
John was born abt 1839, at Rhosymedre, Ruabon, Denbighshire, to parents Richard and Mary. Richard was a master joiner.
Census returns identify the following occupations for John.
1861 joiner
1881 joiner
1891 builder
1901 builder and contractor
1911 builder and contractor
John was married to Jane (abt1835-1905). Census returns identify four children.
David Richard (b1863) – a joiner
Mary Emily Helena (1865-1930) – married Elijah Powell, a butcher, in 1893
Alice Jane Vaughan (b1867) – married Edward Pierce Thomas, an engine fitter, in 1897
Edith Louisa (b abt1871) – married Taliesin Griffith Lloyd Jones, a worker in brick and terra cotta works, in 1900
John died on 5 April 1926 at Hillingdon House, Trefynant, Llangollen.
References
Christian Messenger 1922/139
Census Returns and Births, Marriages & Deaths Registers