Watson, Matthew (b abt1853)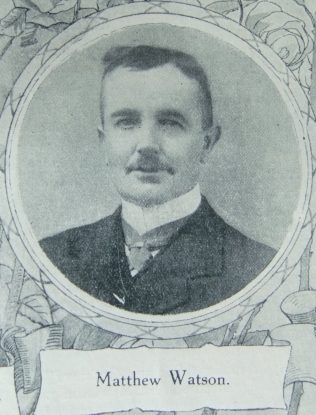 Transcription of Magazine 'Sketch'
Matthew Watson is one of the few remaining pioneers of the Primitive Methodist Church in Greenock. A native of Paisley, he removed to Greenock while still in his teens forty-one years ago. About five years after this he was converted under the ministry of Rev. Robert Ayres who was at that time missioning the town. He at once identified himself with the young cause and found in it congenial sphere of useful service. Workers at that time being few, he was soon in official position as Society Steward. For the last twenty-five years he has filled with credit the position of Circuit Chancellor. With no special gifts such as would bring him into prominence in public affairs he has rendered invaluable service to our church. It is to the loyalty and devotion of such as he that Primitive Methodism in the "Farthest North" owes its very existence.
Family and other information
Matthew was born abt 1853 at Paisley, Scotland. He worked as a hairdresser.
Matthew was married to Marion (b abt 1858). Census returns identify six children.
Matthew (b abt 1874) – a hairdresser
James (b abt 1876) – a clerk
John (b abt 1878) – a hairdresser
Marion (b abt 1880)
Annie (b abt 1883)
William (b abt 1885)
References
Primitive Methodist Magazine 1911/954
Census Returns and Births, Marriages & Deaths Registers