Welford, George Lawrence of Lymm (1851-1925)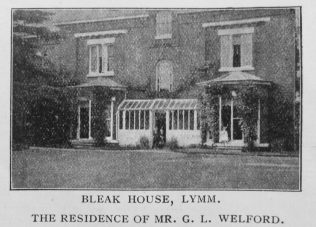 Transcription of article published in the Primitive Methodist Magazine by "An Old Timer" in the series "Some of our Stalwarts"
WE travelled the other day upon a line of railway which crosses this island of ours from coast to coast. We joined the train at Darlington, that birthplace of railways and metropolis of Quakerism, and had little more than left the town before we were drawn by the compulsion of beauty to the carriage window. While the locomotive devoured the distance we devoured the  landscape. We did it eagerly, too, though we had made the same meal many a time before, for here is wonderful fare for eyes tired of the city streets. "Barnard Castle'' was called and soon we found ourselves passing over the Tees Bridge. What a view to gaze upon—the river rushing below, strong and tumultuous over its bed of rock; in the distance: the towers of a grim old castle which, for a thousand years, has lorded it over the unruly stream; the little town, half in Durham, half in Yorkshire! Beyond: a rolling country reaching up to the blue mountains of the Pennine Range. Was it any wonder that Walter Scott, accustomed though he was to look on scenes of sylvan loveliness, chanted the praises of this land, or that Charles Dickens, flying from the rush of London, spoke gratefully of the repose of this quiet spot? We know of English people who have not seen this prospect, and who have, nevertheless, spent time and energy and money in visiting the Rhine! Rhine has nothing fairer than the view from this English railway bridge!
We who write these lines in former years spent many days in Barnard Castle and, though we turn that way but seldom now, never do we pass this little station and cross this lofty viaduct without thinking of old times and of the old folks who made those times so pleasant Alas, many of them are now no more! Our thoughts, if saddened by this reflection, are made sweeter by the tenderness it occasions.
Of the vanished were an old, old man and his wife who long and bravely sustained the cause of Primitive Methodism in the little town. People, they were, of strength and character and true religion. Three sons, their home sent forth into the world. The name of the eldest was John; and if there be a Primitive Methodist of years of discretion who has not heard of John Welford we would like to see him. The second son was yclept William, and him the Lord has just gathered to his rest after a life of service which was not without heroism in bonds for the Master's sake. These two brothers were to live by the Gospel. A third was to find his bread in the profession of the law the while his heart realised its chief delight in the things of grace. He was to become a lawyer by calling and a preacher by inclination. He—George Lawrence Welford—is the substance of this sketch. Primitive Methodism knows him well, and esteems him as it knows him. 
We are given to understand by the Editor of this magazine that these sketches of the Stalwarts of our Church are not to be biographies; no, not even "potted biographies''—but, as far as can be in the small space that the said editor can allow, attempts to portray their subjects, or at least the mental and spiritual and Primitive Methodist part of them. It is a hard task to do this, for a genuine stalwart, because the very circumstance of his being a stalwart proves the possession of qualities difficult to depict. All the same, the thing has got to be attempted. Of course, we know that after we have done our best with the subject of this paper those who know him will be disappointed with our performance. Be it so; the fact will only prove the wisdom of our choice of a theme and confirm our estimate as to the limits of our poor powers.
However, it is an ill wind that blows nobody good, and one advantage results from the restrictions aforesaid. As this is not a biographical sketch, the writer may claim to pursue his own method of exhibiting its subject. Having seen the place from whence he leaped off into life, he may leave unnoticed a few earnest, working years and at once place his friend in the town and circumstances in which he finds him to-day. It might be in 1882 or perhaps a year or two earlier—as this is not a biography we need not worry about absolute precision as to date — when George Lawrence Welford, last seen in that little burgh by the brown and foaming Tees, became ''George Lawrence Welford of Lymm."
"Of Lymm"; which Lymm, for there are more Lymms than one? This same Lymm is a town in Cheshire, fourteen miles from busy, smoky Manchester; and furnishing such a contrast to Cottonopolis that its inhabitants, who, many of them, journey daily to the great city to business, think of it as of a paradise when they step from the train, a day's work behind them. The place is hard to criticise. Lymm is lovely! Let the reader but saunter in the evening of a summer's day up the path skirting its placid lake and look across its bosom toward the weather-beaten church which throws its image upon the water; let him examine the ancient cross in the quaint Market Place, the stocks and the curious old buildings, and we will guarantee that he will be to the front with an explanation of Mr. Weltord's choice of a dwelling place in which the lawyer will get the credit of possessing an eye for the beautiful and the antique.
Such is Lymm; and it is, and ever has been, a town to think quite comfortably about itself. We have heard it described as a ''classy place.'' We have even known it spoken of as—dare we say it—''a trifle snobbish.'' As to the truth, or otherwise, of this last description we will venture no opinion, only remarking that many of the houses at Lymm are very, very imposing, that more than a sprinkling of ''county people'' have their seats in its vicinity and that there are any number of towns which have manifested a spirit far more favourable to the growth of Nonconformity than has been here displayed. The reader may take the last sentence as containing a hint that Primitive Methodism has not had an easy task in this pleasant Cheshire town.
And this has certainly been the case. For many a year before Mr. Welford "struck the township,'' as our Colonial friends would express it, had the fight been carried on. There had been many a reverse, but the soldiers of the good old times were brave and true, and never knew when they were beaten, The elder folks at Lymm will tell you many a tale about the Thomasons and the Appletons and the Howards and the Wibberleys. They will tell you that Charles Jackson, whom all the Primitives of Lancashire and Mona's Isle learned to love, entered into the ministry from Lymm. They will boast that years after he "went out'' his youngest brother, James, followed him into the same good labour and, living a much longer life, came even to greater fame and the Presidency of the Conference. Of him our Editor could tell many things a son should be proud to reveal. Still, after all the work that had been done and all the sacrifice that had been made, when George Lawrence Welford came to Lymm he found the Primitive Methodist cause housed in a sanctuary which, if it had not had a history of spiritual glories written upon its walls, would have been mean indeed. He found the membership small, though there were grand souls in the little fellowship, and he found that he who would join the Primitive Methodist community would have to pay a price which would increase in proportion as the payer shewed himself out-and-out and neck-or-nothing for the cause!
And what was the price? Just that kind of a price that is hardest for a man of natural refinement and culture to pay—the social price. At the time of his settlement in Lymm Mr. Welford was in the way of beginning practice in Manchester. We need not say that at such a time in a man's life the temptation to compromise is very great indeed. We almost think, knowing Lymm as we did in those days, that if we had been commencing a professional career in which the goodwill of the public was a matter of great importance to success we would have found that it needed no end of courage to commence by joining ourselves to a sect everywhere spoken against. We are certain that if the young lawyer had gone round the district asking the advice of its leading residents as to the best way to ensure success in his new professional venture few indeed of the said residents would have advised him to throw in his lot with the Primitive Methodists.
But he did not canvass the district in this way. Of the kind of stuff to do that sort of thing he was not made. Probably there was not so much of this class of material in his young days as there is now. Whether or not, it did not get into his composition. If his religion was unacceptable to Lymm, so much the worse for Lymm, for he was going on with it. He came to the place a Primitive Methodist and a Primitive Methodist he meant to remain. Of course, he had helpers in the decision. How welcome the few faithful ones made him! How greatly his memories assisted him! Then there was another helpful influence—of which we will say little. Most men owe much of the best in them to some one woman whose voice was unto them as the whisperings of God. We will say no more. *Tis better to have loved and lost than never to have loved at all."
So the young solicitor threw in his lot with the Church of his father, and threw it all in. At Lymm a mere nominal and ornamental membership would have been worse than useless. Our friend's membership has not been of that sort. It has not been a mere Connexional membership either—one of the kind assertive and voluble in Conferences and to the front on great occasions the while it remains a negligible quantity at home. If we had charge or  complaint to bring against our friend it would be to the effect that he has not attended our great Connexional functions as he ought to have done. But this allegation, we would not make at Lymm, for there it would be answered by a grateful fellowship to the effect that George Lawrence Welford has had no time to race about the land and has preferred to devote himself to hard, slogging work for the Church in the town and circuit of his adoption; and the answer would be hard to ignore. He has worked hard at home. He has done everything and that to the top of his power. Preaching,—and he can preach—teaching, official work, bricks and mortar work; he has not ''a finger" but two whole hands in every pie. Soul saving, money raising and extension and consolidation, he has toiled in them all. His example has inspired and heartened others. To-day, the Church at Lymm has a beautiful building. |The cause is no longer despised, but recognised as one of the beneficent and growing forces of the locality to be reckoned with on every moral issue. The Lymm circuit is one of the desirables of the Manchester District. Of course, this one man has not done it all; but he has been in at the doing of it—always devoted, always enthusiastic, always the whole thing!
And this is not the only enterprise in which George Lawrence Welford has, by facing difficulty and danger proved himself a stalwart. We remember his father as a keen politician and the son inherited the bent and the principles of the sire. These principles were not of the kind in favour at Lymm. Surely he might have been quiet about his politics, if not about his religion, but "in for a penny in for a pound,'' and to work he went. He had a lot of fighting on his hands, but his blows made a difference. He became the legal agent of his party. Time arrived when his ideals, hitherto despised in this end of Cheshire, came out on top. It is up and down in this old world and if, in the Altrincham Division, it happen to-day to be "down'' with the politics our friend believes in, he for one is not depressed. He expects to see a lot of things happen ere many days go by.
It is a pleasant thing to know that such a man has not only earned, but also received, some share of the good things of life. After all, his Primitive Methodism has not killed his legal practice.
Having called away one dear mate, God gave him, after many years, another who, born in a Primitive Methodist manse, is at one with him in faith and purpose. In Miss Welford he has a daughter whose delight is in quiet service, and whose character recalls that of one, to her a happy and inspiring memory. A homely home is that at sweet old Lymm. May the sun continue to shine upon it and all its chambers be filled with peace!
Family
George was born on 4 October 1851 at Barnard Castle, Co. Durham, to parents Thomas Welford, a tailor, and Hannah Haigh. He was baptised on 27 October 1851 at Barnard Castle.
Census returns identify the following occupations for George.
1861 scholar
1871 general clerk in solicitor's office
1881 articled clerk (solicitors)
1891 solicitor
1901 solicitor
1911 solicitor
He married Sarah Anne Rowntree (1852-1883) in late 1873 at Barnard Castle, Co. Durham. Census returns and birth records identify three children.
Arthur William Charles (1874-1875)
Hubert Rowntree (1876-1876)
Ethel Mary Rowntree (1877-1955)
He married Elizabeth Barnsley (1876-1973) in early 1903 in the Cannock Registration District, Staffordshire. Elizabeth was the daughter of Isaac Rains Barnsley, a PM minister. Census returns and birth records identify seven children.
Philip Lawrence (1905-1978) – a law student (1925); assistant solicitor (1939)
Oswald Stephen (1906-1973) – a fruit horticulturalist (1939)
Alice Margaret (1907-1999) – a teacher (1939)
John Spencer Barnsley (b abt1909) – a coffee planter in Kenya (1946)
George Maurice (1910-2001) – a market gardener (1939)
Elizabeth Joyce (1912-1996) – a state registered nurse (1939); married Donald Croucher-Smith in 1939
Male (1915-1915)
George died on 22 October 1925 at the Royal Infirmary, Blackburn, Lancashire.
References
Primitive Methodist Magazine 1913/603
Census Returns and Births, Marriages & Deaths Registers