Williams, Elizabeth (d1911)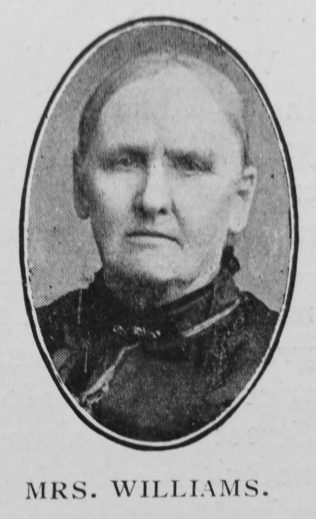 Transcription of obituary published in the Primitive Methodist Magazine by J.T.G.
On June 1st, 1911, our beloved sister passed away. When living at Crombach, in the Aberdeen Circuit (over fifty years ago) she was attracted to our Church during the holding of special services. She gave herself to the Lord and joined our fellowship. Removing subsequently to Porth, she at once united with our Church.
The Rev. F. Richardson writes concerning her:- "I first met the late Mrs. Williams in 1882, at the beginning of my ministry. I found her one of the most prominent and useful members of our Church. It was a benediction to hear her engage in prayer, as she often did. She was a generous supporter of the funds of the Church, and most eager that the struggling cause should prosper. She took great interest in cottage prayer meetings and open-air work. A loyal Primitive Methodist, she remained true to the Church of her choice through its many vicissitudes, and never abated her loyalty to or prayers for its prosperity. A most affectionate, devoted Christian mother, her children "rise up and call her blessed."
The funeral took place on Whit Tuesday.
Family
I have not been able to identify Elizabeth in online records. Can anyone point me in the right direction?
References
Primitive Methodist Magazine 1912/163 
Census Returns and Births, Marriages & Deaths Registers