Austerbury, James (1829-1907)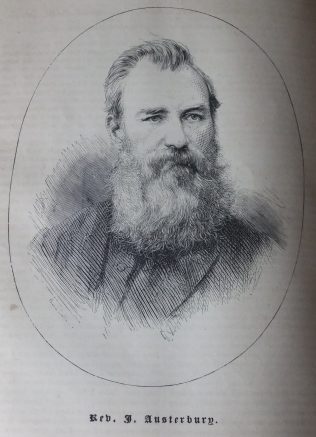 Early years
James was born on 22 March 1829 at Royton Lancashire to parents Joseph and Sarah. James was baptised on 14 June 1829 at Royton. Joseph was a cotton spinner. The 1851 census shows the family in Ashton under Lyne, with James also working as a spinner.
Joseph opened his cottage for meetings when Royston was missioned by evangelists from Oldham. Joseph and Sarah joined the Primitive Methodists. James was converted under a sermon preached by Rev Jonathan Clewer when the family had moved to Ashton under Lyne. He was soon on the plan.
Ministry
James frequently had to deal with cases of financial difficulty and was successful in raising considerable sums of money for new chapels and debt reduction.
His obituary records that he was quiet and unassuming in manner, and well versed in the Scriptures and Methodist Theology. He made careful preparation for the pulpit and kept himself well abreast of the thought of the time.
Family
James married Mary Ann Beck (1832-1909) in early 1861 at Barton upon Humber. Census returns identify one child.
George Beck (1865-1910) – a grocer
James died on 8 April 1907 at Hull, Yorkshire.
Circuits
1852 Patrington
1853 Hull ll
1854 Alford
1855 Driffield
1857 Bridlington
1859 Barton upon Humber
1861 Scarborough
1863 Grimsby
1865 Brigg
1868 Hull l
1870 North Cave
1873 Tadcaster
1875 Alford
1878 Pocklington
1880 Market Rasen
1881 Barton (Sup)
1881 Hull lV (Ac)
1889 Hull ll
1891 Hull l
1900 Hull l (Sup)
References
Primitive Methodist Magazine 1880 (portrait); 1907/740
PM Minutes 1907/7
H B Kendall, Origin and History of the PM Church, vol  2, p46
W Leary , Directory of Primitive Methodist Ministers and their Circuits , 1990
Census Returns and Births, Marriages & Deaths Registers
Downloads
Transcription of Obituary published in the Primitive Methodist Magazine 1907.