Ayres, Robert (1839-1910)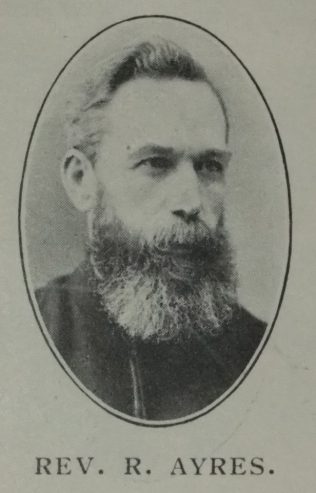 Early years
Robert was born in 1839 at Oving, Buckinghamshire to parents Robert and Sarah. Robert senior was an agricultural labourer. Both parents were PM local preachers.
When Robert was 15, the family moved to Preston where he attended Saul St Sunday School. Robert joined the church when he was 18.
Ministry
In the third year of his probation, Robert was made superintendent of the Ashford station in Kent.
Robert was responsible for building chapels at Shieldmuir, Greenock, Moresby Park at Whitehaven and Workington.
His preaching was of the expository type, and his extensive reading gave him freshness to his discourses, so that he built up those who sat under his ministry.
After superannuation Robert retired to Preston where he worshiped at Fylde Rd Church. He was chaplain of the Free Churches of Preston and District and to the Royal Infirmary. He spent two days per week visiting the Infirmary.
His obituary records that he was a very conscientious and painstaking minister, and endeavoured faithfully to serve his God and his people.
Literature
Robert authored the following.
Christian Baptism: A Treatise on the Mode of Administering the Ordinance by the Apostles and Their Successors in the Early Ages of the Church , 1907
Family
Robert married Margaret Wells (1839-1903) in the summer of 1866 at Hendon, Middlesex. Census returns identify three children.
Mary E (b abt1865)
Albert Ernest (1881-1897)
Dora (1884-1919) – married Richard Brinnand Boardwell, a commercial traveller and book-keeper.
Robert died on 12 March 1910 at Preston, Lancashire
Circuits
1861 Buckden
1862 Deal & Dover
1864 Ashford
1865 Croydon
1866 Motherwell
1867 Glasgow
1869 Wishaw
1873 Greenock
1877 Ryde
1879 Rugby
1881 Whitehaven
1884 Holborn Hill
1887 Ramsey
1890 Greenock
1895 Knowlwood
1896 Wells
1898 Preston I (S)
References
Primitive Methodist Magazine 1894/43; 1910/909
PM Minutes 1910/13
W Leary, Directory of Primitive Methodist Ministers and their Circuits , 1990
Census Returns and Births, Marriages & Deaths Registers