Barber, Benjamin Aquila (1876-1946)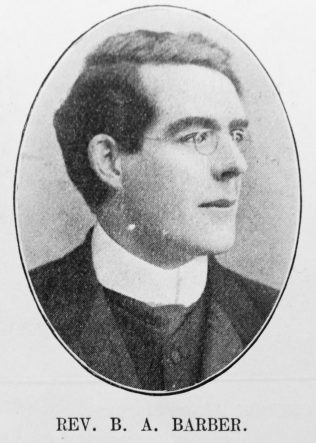 Early years
Benjamin was born in 1876 at Leeds, Yorkshire, to parents George Calvert Barber and Hannah Carter. Hannah died when Benjamin was very young.
Benjamin entered Hartley College in 1897.
Ministry
His obituary records that his special gifts were of the literary order. Sensitive to the best in English Literature, he became a stylist and a master of flexible English prose. His sermons were choicely expressed and gemmed with apt literary allusion. Culture, in his case, was not cold, but was fired by a high passion for social justice.
In WW1 Benjamin served as a chaplain, both in France and Italy. Towards the end of the war he became Educational Officer, and long after the armistice, lectured in English Literature.
After the war, Benjamin entered upon a great ministry in Harrogate, which lasted ten years, before becoming Connexional Editor. In 1935, he returned to circuit work and practically died in harness, as he survived superannuation by a few weeks only.
Literature
Benjamin authored the following.
Robert Louis Stevenson: an appreciation, 1910
A Methodist pageant: a souvenir of the Primitive Methodist Church, 1932
What I believe: a symposium, edited by B. Aquila Barber, 1935
The art of Frank Salisbury, with a descriptive letterpress, 1936
Family
Benjamin married Helen Nicholson Yorke (1874-1944) in the summer of 1903 at Tunstall, Staffordshire. Census returns identify two of three children.
John Yorke (1908-1964) – a PM Minister (1930-1933); later an Anglican clergyman
Helen Elizabeth Yorke (1910-2004) – known as Bettie
Benjamin died on 4 October 1946 at Bradford Royal Infirmary, Yorkshire.
Circuits
Hartley
1899 Tunstall
1904 Spenymoor
1906 Bishop Auckland
1912 Leeds IX
1916 Chaplain to H.M. Forces
1920 Newcastle III
1921 Harrogate
1931 Editor
1935 Lytham St Annes
1941 Lancaster
1944 Aireborough
References
Primitive Methodist Magazine 1926/806
Methodist Minutes 1947/130
W Leary, Directory of Primitive Methodist Ministers and their Circuits, 1990
Census Returns and Births, Marriages & Deaths Registers