Blake, Ephraim (1822-1906)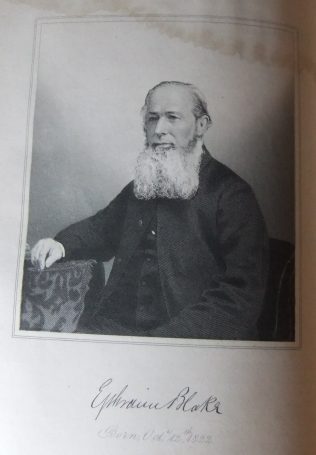 Early years
Ephraim was born on 12 October 1822 at Bury St Edmunds, to parents Abel and Elizabeth. Abel was a labourer in 1841. Ephraim was taught to read and write by his father during the long evenings of winter.
Ephraim was converted aged 15. He immediately became a Primitive Methodist member and teacher in the Sunday School. He became a local preacher when he was 21.
Ministry
His obituary records Ephraim as being of a pleasant and genial disposition with a smile and kindly word for everybody; and never put out, he made few, if any, enemies.
Gifted with a mellow, musical voice, he was fervent and evangelical as a preacher and won many souls to Christ.
Family
Ephraim married Elizabeth Abbs (1831-1905) in 1850 in the Erpingham Registration District. Census returns identify twelve children.
Arthur Ephraim (1851-1898) – a brewer's agent
Augusta Elizabeth (1853-1928) – married Alfred Smith, a tailor's cutter
Emma Maria (1855-1916) – married William John Henderson, a sewing machine agent
Alfred George (1857-1882)
Walter Frank (1859-1913) – an NSPCC Inspector
Laura Pamela (1860-1861)
Laura Pamela (1862-1906) – married Charles Drake, an ironmonger; the 1891 census also records he was a sub-postmaster, rate collector and registrar of births, marriages and deaths
Henrietta Kate (1864-1952) – married Arthur Jary, a master carpenter and builder
Edith Jane (1866-1948) – married John Learmonth, a PM Minister
Julia Alice (1867-1930) – married Albert Lionel Cossey, a house furnisher's manager
Louisa Mary (1869-1946) – married Sidney Morgan Gosling, a grocer
Rose Lilian (1872-1958) – married Edward Walter Flaxman, a bricklayer
Ephraim died on 17 November 1906 at Gorleston, Suffolk.
Circuits
1846 Ipswich
1847 Aylsham
1849 Norwich l
1851 Cambridge
1853 Wangford
1855 Fakenham
1857 Ipswich
1859 Docking
1863 Yarmouth
1866 Bury St Edmunds
1869 Watton
1872 Wisbech
1875 Lowestoft
1879 Norwich
1882 E Dereham
1884 Ely
1889 Yarmouth (S)
References
Primitive Methodist Magazine 1874 (portrait); 1906/156 (Elizabeth);1907/822
PM Minutes 1907/11
W Leary,Directory of Primitive Methodist Ministers and their Circuits , 1990
Census Returns and Births, Marriages & Deaths Registers
Downloads
Transcription of Obituary published in the Primitive Methodist Magazine 1907.