Bagley, George (1808-1859)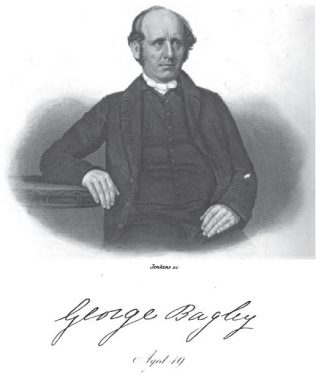 Copy provided by Steven Carter
George was born in 1808 at Rowley Regis, Staffordshire to parents George Bagley (b1771) and Ann Perry (b1775). He was one of seven children. He was baptised in Dudley on 1 January 1809.
George married Frances Bangham, born abt 1807 in Tenbury, Worcestershire. She died in Wolstanton in 1892. They had four children.
Elizabeth Ann (b 1839) – married John Turner, a clergyman (C of E)
Thomas Joseph F B (1842-1897) – chemist
Edward George (1845 – 1836) – wholesale chemist
William (1846-1920) – commercial traveller (chemicals)
George died on 24 October 1859 at Shrewsbury.
Literature
George had the following book published in 1852.
The great philanthropist: or, The man who went about doing good
being the substance of a sermon preached in the Primitive Methodist Chapel, at Oswestry, on the afternoon of Sunday, November 21st, 1852, occasioned by the death of the venerable Hugh Bourne, one of the founders of the Primitive Methodist Connexion
Circuits
1834 Darlaston
1835 Kidderminster
1836 Macclesfield
1838 Oswestry
1839 Cwm
1841 Tunstall
1843 Pontefract
1845 Leeds
1847 Halifax
1848 Wrockwardinewood
1850 Tunstall
1852 Oswestry
1854 Ludlow
1856 Darlaston
1859 Shrewsbury
References
Primitive Methodist Magazine 1835/266; 1858/129; 1860/129
PM Minutes 1860/7
W Leary, Directory of Primitive Methodist Ministers and their Circuits , 1990
Census Returns and Births, Marriages & Deaths Registers