Blair, Richard Solomon (1838-1910)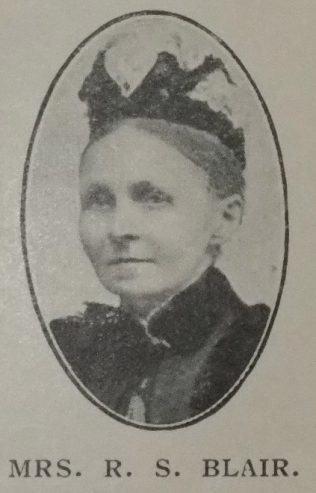 Early years
Richard was born on 2 October 1838 at Alwent Mill, nr Staindrop, Co Durham to parents David and Isabella. David was a miller.
Ministry
In 1860, Richard went to Scarborough to assist Rev Hugh Campbell who was in the process of building the Jubilee Chapel. Unfortunately Hugh was killed in a traffic accident on the day Richard arrived so Richard had to assume responsibility for continuing the building work.
Rev Robert R Connell wrote in Richard's obituary; 'His thirty years of service in East London, commencing on the Poplar station, supplied a chapter in London Primitive Methodism of marvellous success in aggressive missionary operations and in the unprecedented number of chapels and schools erected, whilst the additions to the numbers of church members remind us of the rapid progress of the early days of our church.'
On retirement from the active ministry, Richard served as Secretary of the Hartley London Chapel Debt Reduction Fund and as the Honorary Secretary of the Whitechapel Institute and Home of Rest.
In the wider community, Richard served as a School Board Member and Essex County Councillor.
Literature
Richard authored the following.
The minister's wife; or, light at eventide , 1871
A memoir of Billy Durrant, Local Preacher, bookseller and poet, compiled from his letters, journals and poems , 1884
Reaching the masses; or, ten years' experience of mission work in East London , 1884
Nailed up the old barn door and what came of it, 1894
Family
Richard married Ellen Harrison (1839-1870) in late 1865 at Scarborough, Yorkshire.
Richard married Mary Mitton (1835-1911) in the summer of 1884 at Newmarket, Cambridgeshire.
Richard died on 29 April 1910 at Romford, Essex.
Circuits
1861 Hornsea
1865 Louth
1867 Hull I
1868 Newport, IoW
1870 Whickham Brook
1874 London VIII
1881 London XIII
1882 Canning Town
1886 Upton Park
1904 Romford (Sup)
References
Primitive Methodist Magazine 1893/385; 1910/819; 1911/317 (Mary)
PM Minutes 1910/18
H B Kendall, Origin and History of the PM Church, vol 2, p539
W Leary , Directory of Primitive Methodist Ministers and their Circuits , 1990
Census Returns and Births, Marriages & Deaths Registers