Balls, William (1853-1914)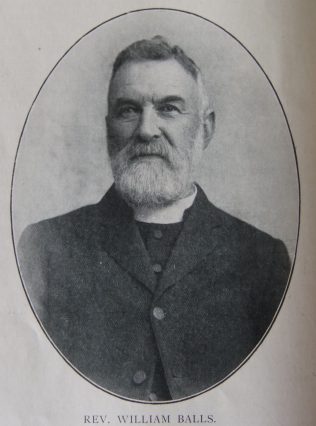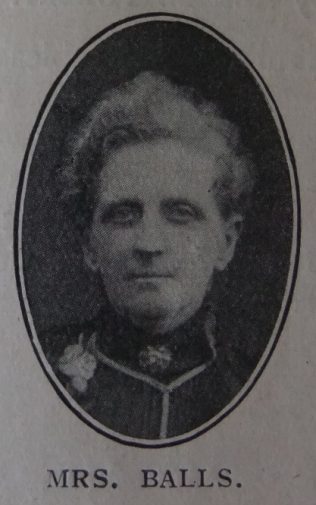 Early years
William was born in 1853 at Southwold, Suffolk. His father died when William was a few months old and his mother, Sarah, was left to struggle hard to provide for herself and the orphaned children. She was a member of the little PM Society at Southwold.
William was converted in the Robert Street Chapel, Plumstead, after moving there. At seventeen, William was placed on the plan as a local preacher. Two years later, William became writing master at Elmfield College under the governorship of Rev Thomas Smith.
Intense application to study produced an early breakdown in health, and in 1877, William left the college for more active circuit work. He was sent as honorary lay preacher to Aylsham circuit, and was called into ministry from that circuit. Rev Mark Warnes was the superintendent of the Aylsham station at that time.
Ministry
His obituary records that William never cared for the glare of the footlights, but loved the quiet of the study and the plodding regular ministry of pastoral work. He delighted to present the great evangelical truths of the Gospel and his finest efforts were in a little village chapel on a week evening.
Family
William married Emma Susanna Warnes (1855-1918) in the summer of 1881 at Aylsham, Norfolk. Emma was a daughter of Rev Mark Warnes. Census returns identify two of three children.
Eleanor Fanny (b1882) – married John Robert Loveless, a commercial traveller
William Mark (1887-1968) – a grocer's assistant (1911)
William died on 17 June 1914 at Norwich, Norfolk.
Circuits
1877 Aylsham
1878 Bury St Edmunds
1879 Wymondham
1882 Rockland
1883 Colchester
1884 Kirby le Soken
1886 Aylsham
1889 Briston
1894 Rockland
1896 Swaffham
1898 N Walsham
1902 Briston
1905 Ely
1908 Newmarket
1910 Wallingford
1913 Winchester
References
Primitive Methodist Magazine 1913/294; 1918/140
PM Minutes 1914/257
W Leary, Directory of Primitive Methodist Ministers and their Circuits, 1990
Census Returns and Births, Marriages & Deaths Registers