Cole, Ernest Stephen (1861-1939)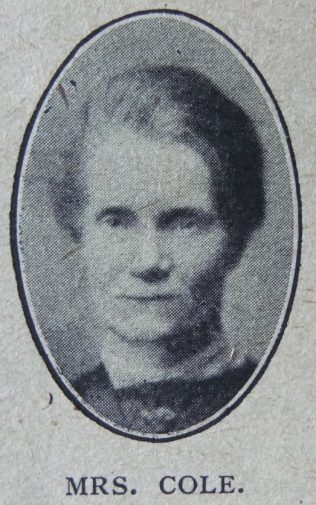 Early years
Ernest was born on 18 July 1861 at Pimlico, London, to parents George and Kate Augusta.
The formative period of his life was spent in the High Street, Borough, London, where for six years he lived over the business premises of a wholesale and retail provision merchant. His father managed the retail department for many years. This business occupied the courtyard of the old Marshalsea prison, made immortal by Dickens' 'Little Dorritt'.
Ernest was educated at the Dover Road Collegiate and Commercial School. Having passed through the top form, he became junior master when only fifteen years old.
The family worshipped at the old King's Weigh House Chapel, and Ernest attended the Sunday school connected with that chapel. He did his first public work playing the harmonium at children's services.
It was during the first great mission of Moody and Sankey that Ernest's mind was deeply and permanently affected resulting in his conversion. About that time, he united himself with the Congregational Church in Asylum Road, Peckham, and became a Sunday School teacher. Always desiring to be a preacher, a gentleman associated with the King's Weigh House chapel became interested in him and presented him with a copy of Hodges' 'Outlines of Theology,' asking Ernest to study it, and prepare for entrance to Hackney Congregational College. Upon securing an audience with Rev Gilbert McAll, the then Principal, Ernest was advised to leave the scholastic desk and go into the city to get some business experience. This he did, whilst gaining that experience, Ernest transferred his church membership to Rye Lane Baptist Church, and was baptised by Rev James Spurgeon in the Metropolitan Tabernacle in September 1879.
Ernest entered Spurgeon's College and became a Baptist minister.
Ministry
Ernest's first charge as a Baptist minister was at Malden, Essex, where he stayed for eight years and performed good service. A serious breakdown of health caused him to leave that church, and leaving, he left the Baptist Church for good. Upon his recovery, Ernest was received into the Primitive Methodist ministry at the Norwich Conference of 1892.
His obituary records that Ernest was a preacher of distinctive quality, with a message always centred on Christ. He was an accomplished musician and elocutionist, and all his powers were dedicated with untiring devotion to the service of his Master.
Family
Ernest married Emma Frances Mary Frost (1876-1926) in late 1893 at Birmingham, Warwickshire. Ernest baptised Emma in Crown Lane Baptist Church, Maldon, Essex. Records identify three children. Another child died in infancy.
Ernest Frost (1895-1959) – a mariner
Edith Frances Shelly (1901-1921)
Bertram Walter (1912-1992)
Ernest died on 4 March 1939 at Camborne, Cornwall.
Circuits
Spurgeon's College
1892 Birmingham I
1894 Birmingham IV
1895 Fleetwood
1899 Newton & Hyde
1902 Blaenavon
1905 Portsmouth II
1912 Birmingham IV
1913 Nelson, Glamorgan
1916 Blaenavon
1920 Walkden
1923 Glascote
1926 Pontefract
1928 Newport, Mon
1930 Camborne
1933 Camborne (Sup)
References
Primitive Methodist Magazine 1921/594; 1926/882 (wife)
Methodist Minutes 1939/213
W Leary, Directory of Primitive Methodist Ministers and their Circuits, 1990
Census Returns and Births, Marriages & Deaths Registers