Clarke, George Pearson (1846-1918)
1846-1918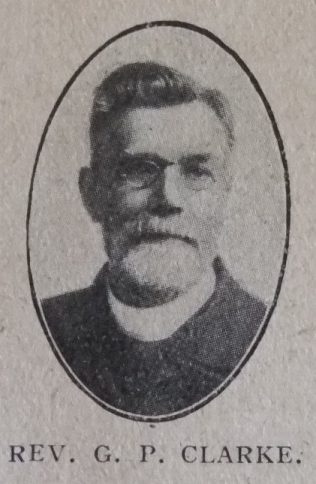 Early years
George was born in 1846 at Loughborough, Leicestershire to parents George and Mary. George, senior was circuit steward for twenty-six years and a local preacher for over fifty years.
George was converted at the age of nine and began preaching at fourteen. He moved to ~Leicester when he was fifteen and was recommended for ministry by the Leicester I circuit.
Ministry
At the instigation of Dr S Antliff, George spent five years in Canada, a part of which period was occupied in the rough and heavy pioneer work of the great north-west. This involved journeying hundreds of miles in a dog sleigh – with only the dogs for company and his rifle for protection.
The monument to George's skill and enterprise was the Central Hall at Bradford.
His obituary records that it was his joy to preach the Word, and to the last he retained an amazing skill in directing a prayer meeting.
George was the first to introduce the "Sister of the People" agency.
Family
George was married to Elizabeth Morley (1845-1911) in July 1872 in the Hinckley Registration District, Leicestershire.  Census returns identify four children.
Annie Lilian (b abt1874) – married James Henry Blake, an engineer
Edith Eliza Morley (1875-1960) – a teacher (1891); married Thomas Leonard Weight, a commercial clerk (1911), in 1900
Grace Ethel (1878-1968) – married Harry Halford, a master baker
Launcey Beatrice (1883-1969) – a schoolmistress (1939)
George died on 19 December 1918 at Leicester, Leicestershire.
Circuits
1868 Horncastle
1870 Coningsby (Can)
1872 Stratford
1873 Bowmanville
1874 Manitoba
1876 Woodstock
1877 Bournemouth
1879 Margate
1880 Birmingham I
1885 Leicester I
1887 Derby II
1890 Bradford I
1897 Balham
1901 Crewe
1905 Norwich
1908 Kettering
1909 Paisley
1911 Loughborough (S)
1914 Leicester II (Ac)
1918 Loughborough (S)
References
Primitive Methodist Magazine 1908/339; 1919/876
PM Minutes 1919/252
W Leary , Directory of Primitive Methodist Ministers and their Circuits , 1990
Census Returns and Births, Marriages & Deaths Registers