Chappell, John William (1868-1937)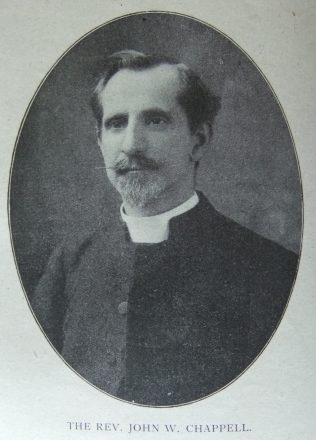 Early years
John was born on 29 September 1868 at Leeds, Yorkshire, to parents Samuel and Sarah.
John entered the ministry from Barnsley.
Ministry
John was associated with a number of building schemes including; a school hall at Withernsea, school premises at the Clowes Memorial Chapel, Burslem, two suburban churches in the Nelson circuit and a church at Motherwell.
John's obituary records that he was a keen and diligent student, an accomplished linguist, a capable administrator, and faithful pastor. His appointment to various District offices was not only a tribute to his ability, but also to the marked esteem in which he was held by his brethren.
His constructive thinking, lucid expression, extensive reading, and rich experience of the treasures of grace, all contributed to the enrichment of his pulpit ministrations.
He was of generous and kindly disposition.
Family
John married Jane Amelia Hope Holden (1865-1936) in the spring of 1895 at Doncaster, Yorkshire. She was the daughter of Mr Richard W Holden, a deed poll member of Conference. Census returns identify two children.
Nora Madeline (1897-1979) – married John Benson in 1920
Ruby Claudia H (1900-1932) – married Frederick Henry Hutchins in 1924
John married Gladys Winifred Eliza Clewett (1902-1986) in late 1936 in Buckinghamshire.
John died on 4 March 1937 at Thornton Heath, Surrey.
Circuits
Hartley
1890 Patrington
1892 Doncaster I
1895 Bolsover
1896 Langwith
1897 Tunstall
1900 Burslem
1901 Preston I
1905 Nelson
1909 Motherwell
1914 Balham
1924 Wolverton
1927 Oxford
1932 Supernum
References
Primitive Methodist Magazine 1920/669
Methodist Minutes 1937/202
W Leary, Directory of Primitive Methodist Ministers and their Circuits, 1990
Census Returns and Births, Marriages & Deaths Registers
Downloads
Transcription of obituary published in the Minutes of Conference