Davidson, John (1841-1915)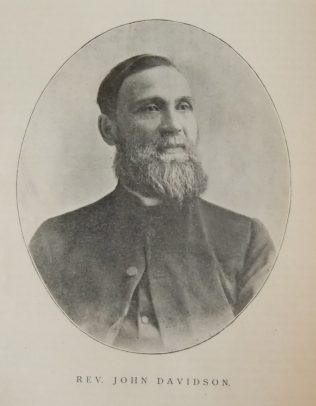 Early years
John was born in 1841 at Gartsherrie, Renfrewshire. He joined the Primitive Methodist church at Tollcross in 1858.
Ministry
Whilst at Glasgow, John built a chapel at Tollcross where he had been converted and from where he had entered the ministry.
As a worker he was quiet and methodical, physically not strong, but his methodical way of going about his work enabled him to do more than some stronger men. He was a good family visitor, and, having suffered himself, he was able to sympathise with the suffering.
His obituary records that in retirement John endeared himself to many friends, and by his pastoral work and helpful preaching he made an enduring name in Peterborough.
Family
John married Harriet Ellen Bradshaw (b1842) in the summer of 1869 at West Bromwich. Census returns identify four children.
Robert (b abt1870)
Harriet Phoebe (b1873) – married Robert Buchan
John (b1877)
Annie Mary (1881-1966) – manageress of an umbrella shop (1911); married Henry Bertie Rushmer, a clerk
John died on 14 March 1915 at Peterborough, Northamptonshire.
Circuits
1862 Paisley
1863 Alloa
1864 Newmarket
1865 Portsmouth
1866 Birmingham
1867 Abergavenny
1869 Glasgow
1873 Gravesend
1875 Cheltenham
1877 Exeter
1879 Dublin
1880 Grays & Romford
1885 Leighton Buzzard
1888 Peterborough I
1892 Aldershot
1894 Cambridge I
1897 Eston
1900 Birmingham (S)
1904 Peterborough
References
Primitive Methodist Magazine 1898/243
PM Minutes 1915/15
W Leary , Directory of Primitive Methodist Ministers and their Circuits , 1990
Census Returns and Births, Marriages & Deaths Registers