Eastwood, John (1822-1898)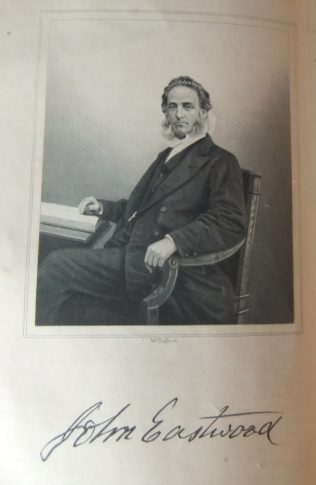 John was born in 1822 near Blackburn, Lancashire. His parents moved to a remote village in Yorkshire when he was a young child. In 1834 Primitive Methodist missionaries visited the village and were allowed to use the family kitchen for preaching purposes. John came into membership on 10 June 1835. At 16 years of age, John moved to a village in the Keighley circuit and for several years was an acceptable local preacher. He entered the ministry in 1845.
Ministry
Following superannuation John moved to New Brompton to be near his son, but he soon accepted invitations as a superannuated preacher. He spent a year in Bristol followed by 2 years in Northampton.
His obituary records that in the prime of his life John had a fine military bearing. He possessed splendid administration qualities. His peaceful disposition, calm manner and sound judgement were of great service to him as a superintendent and enabled him to manage the affairs of his circuits with credit and success. In his preaching he was faithful to the verities of the Gospel, and presented the great doctrines of Methodism with clearness and force.
Family
John married Mary Ann Aspinall (1824-1892) in the spring of 1850 at Bolton, Lancashire. Mary was the daughter of Thomas Aspinall a PM Minister. Census returns identify three children.
Michael Thomas (1851-1900) – a PM Minister in 1871, converts to a Free Church Minister in 1872
Theophilus Aspinall (1857-1935) – a railway clerk and later a dock agent
Mary Ann (b1864) -married William Peel, an Anglican clergyman
John died on 16 January 1898 in Hartlepool, Co Durham and was buried with his wife at Dallington, nr Northampton.
Circuits
1846 New Mills
1847 Preston Brook
1848 Bolton
1851 Stockport
1852 Chorley
1853 Northwich
1855 Castletown
1856 Glossop
1859 Chester
1863 Oldham ll
1866 New Mills
1868 Bolton
1870 Liverpool lll
1871 Walkden
1874 Chester l
1876 Foxhill Bank
1879 Rochdale
1881 Maryport
1885 Gloucester
1887 Redruth
1889 New Brompton (S)
1890 Bristol ll
1891 Northampton l
1894 Cockermouth
References
Primitive Methodist Magazine 1874 (Portrait); 1898/385
PM Minutes 1898/11
The Primitive Methodist, 1898, p123
W Leary,Directory of Primitive Methodist Ministers and their Circuits , 1990
Census Returns and Births, Marriages & Deaths Registers