Ferguson, Robert (1880-1970)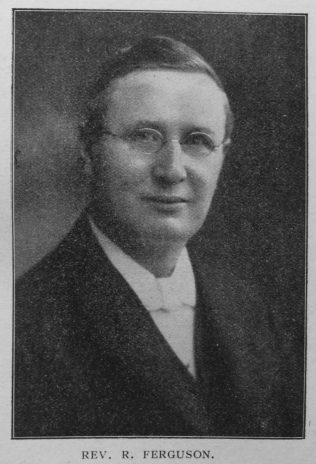 Transcription of obituary published in the Minutes of Conference
ROBERT FERGUSON: born at Over, near Northwich, Cheshire, on 27 August 1880 into a Methodist family. After training at Hartley College he served in the following circuits: Glasgow II, Newcastle upon Tyne II, Paisley, Manchester IX, Manchester II, Blackpool (South), Glasgow (Parkhead), and then as an active supernumerary at Kirkcaldy for ten years from 1951. 
There can have been few men in the ministry more loved by their brethren. For many he was the ideal minister, a man with a rich devotional life rooted in a mystical union with Christ, hard-working and full of compassion. He was a student all his days and loved to be among students and scholars. One of the highlights of his year was the Scottish ministers' and probationers' retreat. He also greatly enjoyed the biennial refresher course of old Hartley students. He was as good a listener as he was a talker. When he listened he was expectant and often excited; when he spoke his whole body was the vehicle of his thought. He was a born preacher and loved preaching. Here he found the opportunity for the exercise of his dramatic gifts and his creative imagination. His appreciation of music and poetry often shone through and illuminated his message. It was fitting that the theme of the last sermon he preached when he was eighty-eight was 'Unconscious Beauty'. 
One of the honours he most appreciated was the invitation to deliver the Hartley Lecture in 1930. His subject, which anyone who knew him could have forecast, was 'The Evangelism for Today: Our new approach to the old task'. It is packed with the wisdom of experience, as are his two later books The Notes and Tones of our Evangelism and Some Reminiscences and Studies. 
In recent years he retired to Bournemouth and finally to Jersey, where his brother had already settled. He continued preaching as long as he was able. He celebrated his ninetieth birthday in a nursing-home, and having borne a long illness with great fortitude, he died on 28 September 1970, in the ninety-first year of his age and sixty-eighth of his ministry.
Family
Robert was born on 27 August 1880 at Over, nr Northwich, Cheshire, to parents John, a missionary (1881), and Annie.
He married Mary (b1877).
Robert died on 28 September 1970 in Jersey, Channel Islands.
Circuits
Hartley
1903 Glasgow II
1911 Newcastle II
1915 Paisley
1923 Manchester IX
1933 Manchester II
1934 Manchester Hulme
1935 Blackpool S
1940 Glasgow parkhead
1951 Edinburgh (S)
References
Primitive Methodist Magazine 1930/473
Methodist Minutes 1971/165
W Leary, Directory of Primitive Methodist Ministers and their Circuits, 1990
Census Returns and Births, Marriages & Deaths Registers