Forth, William (1834-1906)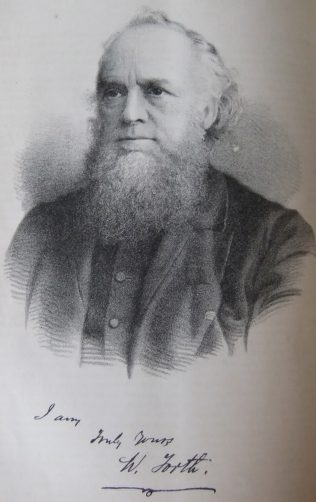 Early years
William was born in 1834 in Hull. William's parents were members of the Congregational church. He received a good education and was apprenticed to a firm of drapers in Birmingham.
In 1858, William joined the Gooch Street Church in Birmingham with a friend, Edward Cross. They became Sunday School teachers and William started to preach. In 1859 William was recommended for the ministry.
Ministry
William's obituary records that he gave himself with great ardour to the work of the ministry, and he found his chief joy in winning men to Christ.
The marked features of his preaching were his apt use of Scripture, his plainness, and practicalness and fervour, and the indescribable unction that attended the Word.
Family
William married Sarah Ann Darby (1830-1898) in the summer of 1863 at Brierley Hill, Worcestershire. She was an evangelist of remarkable abilities and deservedly gained considerable popularity in the Midlands. Census returns identify one child.
Ann Elizabeth (1864-1892) – married Robert Kacy Walker, a printer and stationer
William died on 3 August 1906 in Birmingham, Warwickshire. He suffered heart failure whilst travelling home on a tram.
Circuits
1860 Tunstall
1861 Coventry
1863 Redditch
1868 Cwm
1869 Stratford
1870 Ramsor
1873 Oswestry
1876 Prees Green
1877 Winsford
1880 Congleton
1881 Burton on Trent
1884 Ramsor
1886 Rhosymedre
1889 Birmingham
1892 Cradley Heath
1895 Birmingham lll
1897 Blaenavon
1900 Wellington
1904 Birmingham ll
References
Primitive Methodist Magazine 1888 (portrait); 1907/320
PM Minutes 1907/19
W Leary , Directory of Primitive Methodist Ministers and their Circuits , 1990
Census Returns and Births, Marriages & Deaths Registers
Downloads
Transcription of obituary published in the Primitive Methodist Magazine 1907