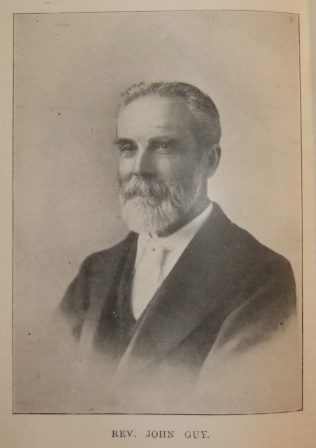 Early years
John was born on 2 October 1845 at Hertford to parents John Guy and Mary Sargeant. John senior was a PM Minister. John's brother, James, became a PM Minister in New Zealand.
John was converted through a sermon to young people by Rev G Wilkinson, pastor of the Congregational Church at Chelmsford, a place or worship he was desired to attend occasionally by his employer. Shortly after conversion, John was bound as an apprentice to the drapery business for a term of five years. Despite opposition from those who deemed it expedient that he become a Congregationalist, John joined with the Chelmsford PM society which at the time was feeble and worshipped in an unpretentious building in Springfield. He worked in the Galleywood Common, PM Sunday School for about eight years.
John started the journey towards local preaching about a year after his conversion He was planned on none or ten Sundays per quarter, but never missed his attendance at the Sunday School, which required a six mile round trip in addition to other journeys on the Lord's work on a Sunday.
Ministry
In May 1866, John was appointed by the General Missionary Committee as a special help for his father at Maldon. John senior had by that time fallen into poor health on an extensive station. The same station pledged John at the conference of 1867.
His obituary records that John was healthy and happy, a cheerful Christian, fond of music and song. He was methodical, orderly, and in some things, precise. Carefulness marked the man, in dress, in speech, in handwriting, in his whole deportment, in the preparation and delivery of his sermons, in all matters of detail, for small matters as for large, and for small congregations as for large ones.
Family
John married Maria Martha Green (1849-1938) in the summer of 1873 at Petersfield, Hampshire. Census returns identify three children.
Ernest William (1874-1952) – an organist and house furnisher (1911)
Arthur John (1877-1946) – an electrician engineer (1911)
Iverna Eveline P (1892-1979)
John died on 5 March 1924 at Mortimer, Hampshire (in the Silchester circuit).
Circuits
1867 Maldon
1868 Buriton
1869 Liskeard
1870 Plymouth
1871 Sheerness
1872 Lincoln
1873 Sheffield III
1874 Ashby de la Zouch
1877 Ilkeston
1878 Bottesford
1880 Newark
1882 Hasbury
1884 Lydney
1887 Hereford
1889 Silchester
1892 Maidenhead
1894 Ashby de la Zouch
1898 Thetford
1900 Halesworth
1902 Maldon
1904 New Brampton
1906 Canterbury
1908 Canterbury (S)
References
Primitive Methodist Magazine 1903/927; 1924/360
PM Minutes 1924/272
W Leary , Directory of Primitive Methodist Ministers and their Circuits , 1990
Census Returns and Births, Marriages & Deaths Registers