Granger, Thomas (1835-1922)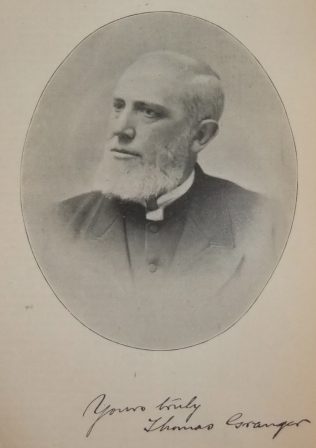 Early years
Thomas was born on 7 August 1835 at Ashby de la Zouch, Leicestershire to parents John Granger and Nessie Haynes. Thomas was baptised in 2 October 1835 at Ashby de la Zouch. John was an innkeeper, wheelwright and also kept dairy cows. John and Nessie were Church of England but became Primitive Methodists before their deaths.
Thomas attended a Blue and Green Coat School and then Grammar School until the age of 15. He was then apprenticed to a wheelwright at Melbourne, Derbyshire. Thomas had been converted aged 12, but on leaving home lapsed for a few months. He returned to faith through a Wesleyan chapel. After four years at Melbourne, Thomas moved to Walsall, to work with a cousin who was a coach- builder, and where he learned the body-making department of the trade.
At Walsall, Thomas joined the Rycroft PM Society. He was made a Sunday School teacher, class leader and local preacher, entering on to full plan in July 1860.
Ministry
Thomas superintended the erection of a dozen chapels and schools, including the Canaan Chapel in the Nottingham first circuit.
He served as District Committee Secretary, District Sunday School Secretary and Equalisation Fund Secretary. For three years he was Secretary of the Candidates Examination Committee (Midland Jurisdiction)
His obituary records that his preaching had the evangelistic edge, and he put his congregations 'in remembrance' that their duty was to witness to the great truths of Christian redemption.
Family
Thomas married Sarah Moore (1836-1903) in the summer of 1866 at Derby. Census returns identify three children.
Thomas William (1868-1949) – a chemistry teacher; later a Staff Sergeant, RAMC (1911)
Sarah Gertrude (1871-1936)
John George (1874-1936) – a music teacher
Thomas died on 2 October 1922 at Scarborough, Yorkshire..
Circuits
1862 Leicester I
1863 Mansfield
1864 Nottingham II
1866 Derby
1868 Chesterfield
1871 Rotherham
1872 Buxton
1875 Lincoln I
1879 Nottingham I
1883 Nottingham II
1891 Scarborough
1894 New Wandsworth
1897 Derby II
1899 Hull I
1900 Barnard Castle
1905 Scarborough (Sup)
References
Primitive Methodist Magazine 1897/163; 1904/493 (wife); 1923/212
PM Minutes 1923/265
W Leary , Directory of Primitive Methodist Ministers and their Circuits , 1990
Census Returns and Births, Marriages & Deaths Registers