Hilton, Robert (1832-1913)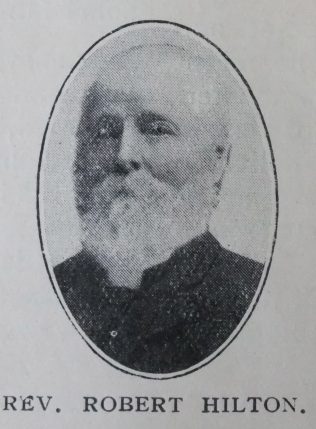 Early years
Robert was born on 12 January 1832 at Bradwell, Derbyshire. His mother died when he was two or three years old.
Robert attended Bradwell Primitive Methodist Sunday School from an early age and was converted aged 20. He became a Sunday School teacher, a visitor of the sick and a leader of prayer meetings. Two years later he was put on the plan.
Ministry
Rev Edward Mather writes in Robert's obituary; 'Modest, unambitious, and thoroughly conscientious in all his dealings. He had a passionate love of preaching the Gospel, and this loved burned in him to the very last.'
Family
Robert married Christina Russell (abt 1842-1892) in Scotland. Census returns identify eight children.
William J (b abt 1866) – a clerk (1891)
David (1867-1942) – a chemist & druggist
Christina (1871-1952)
Robert Arthur (1872-1919) – a clerk
Helen Matilda (1875-1946) – married John Joseph Coole, a builders merchant
Maud (b1878)
Harold Russell (b1879)
Frederick George (1883-1962) – a stationary engine driver (1911)
Robert died on 22 August 1913 at Fleetwood, Lancashire.
Circuits
1860 Settle & Grassington
1861 Baldock
1862 Alloa
1863 Portadown
1864 Lisburn
1866 Lancaster
1868 Preston Brook
1870 Blackburn
1872 Darwen
1873 Fleetwood
1876 Chester ll
1878 Castletown
1882 Dublin
1883 Belfast
1885 E Dereham
1888 St Day
1890 Glastonbury
1893 Yeovil
1896 Newtown
1897 Kelsale
1899 Castletown
1902 Glasgow (Sup)
References
Primitive Methodist Magazine 1891/321; 1914/76
PM Minutes 1914/30
W Leary , Directory of Primitive Methodist Ministers and their Circuits , 1990
Census Returns and Births, Marriages & Deaths Registers